The solid-liquid separator is also called as a dewatering machine. You can use it to separate liquid and solid matters of the wet raw materials whose moisture content is very high. These wet organic materials include chicken manure, cow dung, pig manure, residues of winery, dregs, sewage of slaughter house, biogas residues, municipal sludge and river sludge and so on. Technically, the manure dewatering machine is a kind of environmental protection equipment. If you want to produce organic fertilizers with materials of high moisture content, it is a must for you to get a solid-liquid separator for your fertilizer plant. For your information, the organic materials of high water content are difficult to be completely decomposed.
After being dewatered, the wet organic materials will be separated into liquid and solid matters. The fermented organic liquid can be sprayed in the fields as liquid organic fertilizer. In addition, you can use the composted solid matters to make powdery organic fertilizers or produce granular organic fertilizers. Both solid and liquid organic fertilizers are useful to refine the soil. Shunxin has more than 30 years manufacturing experience in machinery industry. Apart from the quality and low-cost manure drying system, Shunxin can also manufacture a series of high-quality fertilizer making machines.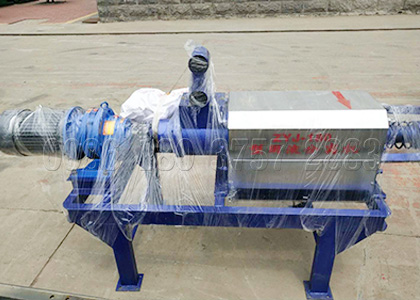 manure dewatering machine
Model: SX-180
Main Power: 4kw
Pump Power: 2.2kw
Vibrating power: /
Voltage: 380v
Dimension:2020*650*1150mm
Nine stunning features of solid-liquid separator
High-efficiency. It can reduce the water content of organic wastes effectively.
Movable. Equipped with four wheels at the bottom of it, you can move your chicken manure drying system to another place easily.
Energy-saving. The main power of Shunxin manure dryer equipment is among 4kw-5.5kw and the pump power of it is 2.2kw.
Reasonable design. The structure of Shunxin poultry manure drying machine is compact.
Easy to operate. This machine is highly automatically, so you will learn how to operate it quickly.
Firm. Our chicken manure dryer machine will not be out of shape easily.
Having a long service life. This machine adopts high-strength screw shaft and stainless steel screen mesh, so you can use it for long.
Small in size. Honestly speaking, Shunxin dewatering machine is quite small and it has less space demand.
Less investment. You do not need to prepare a lot of investment fund for it.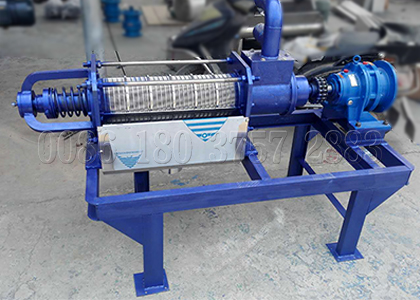 Dewatered organic manure by using Shunxin solid liquid separation machine
How does an organic waste solid liquid separator process your materials?
At the beginning, the wet materials to be dewatered will be lifted to the Shunxin cow dung drying machine. Then, a screw conveying device in the machine will propels the wet materials to move ahead. At this time, the pressure force in the front part of the solid-liquid separation equipment increases gradually. Next, the liquid of the wet materials will be extruded out of the mesh screen to flow in the drain-pipe. Still, the pressure force increases. When the pressure is high enough, the discharge port will open and the dewatered solid materials will come out of the dewatering machine. In this way, the liquid and the solid matters of the wet materials will separate.
There is one thing you should know: Shunxin solid-liquid separating facilities can work continuously. In addition, if you want to adjust the dewatering speed, you can achieve it by changing the balancing weight under the solid separator machine. For changing the moisture content of the dewatered solid matters, you can also achieve it through adjusting the balancing weight. It is often used for manure fertilizer recycling process. Or, for your organic compost making, this machine is applicable.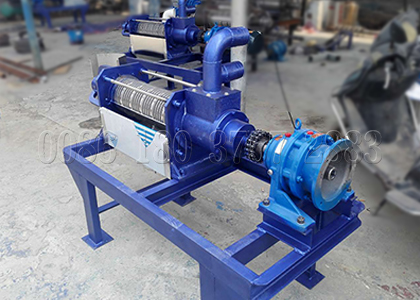 Soild-liquid Separator
Model: SX-230
Main Power: 5.5kw
Pump Power: 2.2kw
Vibrating power: /
Voltage: 380v
Dimension:2350*800*1150mm
Cost of Shunxin cow dung dewatering machine
It is just a small investment for buying a Shunxin solid-liquid separator machine. In general, the price of a solid liquid separating equipment is between 2,600 dollars and 4,000 dollars. Notice: the precise price will float within a narrow range according to exchange rate.
Apart from exchange rate, the price of Shunxin chicken manure dryer machine is also related to models and motors of them. Shunxin prices different models of our solid separators with different prices. Larger models will cost more than small ones. In addition, the materials used to manufacture solid-liquid separators also can affect the price. If you want your machine made of 304 stainless steel, you need to spend more money on it. If you choose a dewatering machine made of common steel, you will save some money. For your reference, 304 stainless steel is more durable than common steel. What's more, the motor is another factor that will affect the price of Shunxin solid-liquid separation equipment. For your reference, imported German motors cost more than the quality motors made in China.
Commercial solid-liquid separators are really low-cost cow dung dewatering machine. Shunxin suggests that all live stock farms, breweries and slaughters should buy one or more commmercial solid separators. If you want to process the organic wastes of your factory with Shunxin industrial dewatering press facilities, you could send inquiry to us. Our sales will provide you more detailed information about our products.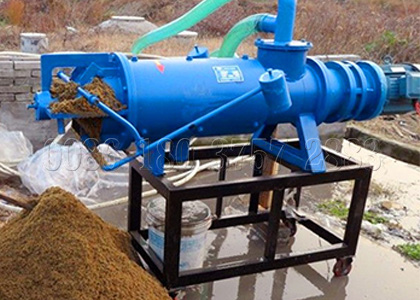 cow dung dewatering machine
Model: SX-230+
Main Power: 5.5kw
Pump Power: 2.2kw
Vibrating power:0.04kw
Voltage: 380v
Dimension:2150*800*1150mm
How to prolong the service life of Shunxin solid-liquid separating equipment?
In the following , Shunxin will present you 8 tips for extending the service life of your chicken manure drying system.
Shunxin solid-liquid separator is equipped with 4 wheels at the bottom of its frame. Therefore, you should place it on a flat ground.
You should check the component parts frequently and find out whether the fastening bolts and screws are loose. If they are loose, you ought to tighten them immediately.
It is necessary to lubricate the speed reducer and the bearing housing with enough industrial oil or grease.
When you put the new manure dryer equipment into use for the first time, the machine should run without any load for 10 minutes.
After use, you's better clean the chicken manure drying system and wipe it with dry cloth.
When you halt the cow dung drying machine, you should adjust the temperature regulatorof the machine to 0 °C.
If your solid-liquid separator breaks down, you must repair it in time. Warning: you mustn't operate a poultry manure drying machine that is faulty.
You shall not overload Shunxin solid-liquid separator facilities at any time.
If you can operate and maintain your solid-liquid separating facility according to advice of Shunxin Heavy Industry, you will use it for long time. Shunxin is looking forward to having cooperation with you. With any interest in our products, you can contact us!