Fertilizer mixer machines are the equipment that are very useful to evenly blend all sorts of fertilizer materials. In general, a fertilizer mixing machine, no matter what kind of mixer it is, consists of three parts: feeding part, mixing part and discharging part. There are five kinds of mixing machines of Shunxin Heavy Industry. They are BB fertilizer mixer, single shaft mixer, double shafts horizontal mixer, disc mixer and low-cost horizontal mixing machine.
Shunxin single shaft mixing machine, double shaft horizontal mixer, disc mixing machine, low-cost horizontal mixer can be used in organic and compound fertilizer production lines. These fertilizer mixing machines should be installed after a crushing machine or an automatic batching machine to mix the powder materials. However, the BB fertilizer mixing machine is different with the other four types of Shunxin mixers. It is specially designed for BB fertilizer production lines to mix different pellet fertilizers. All our fertilizer mixing equipment are economical and of high quality.
Apart from superior fertilizer mix machinery, Shunxin will also provide professional pre-sale, on-sale and after-sale services to you.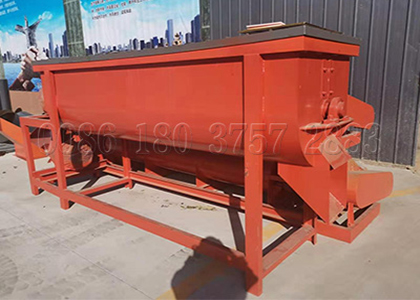 Fertilizer Mixer
Model: SXSJ-8030
Power: 11kw
Mixing Shaft Outer Diameter: 420mm
Stirring Speed: 35(r/min)
Dimension: 3700*800*750mm
Categories of all Shunxin fertilizer mixers
According to the different stirring direction of the mixers, Shunxin fertilizer mixing machines can be classified into horizontal fertilizer mixers and vertical fertilizer mixing machines. The following content is about the specific introduction of these fertilizer mixer equipment.
Horizontal fertilizer mixers
Shunxin low-cost horizontal mixer:
low-cost horizontal mixing machines are very common mixers in the market. It is a kind of semi-automatic fertilizer mixing equipment. If you choose an low-cost horizontal mixer for your fertilizer production line, you need to discharge the mixed material manually. That means, with only one low-cost horizontal mixing machine, you can not make your fertilizer production line run continuously. Therefore, if you don't want to stop your fertilizer production line when it is working, you should equip two low-cost horizontal mixing machines in the production line.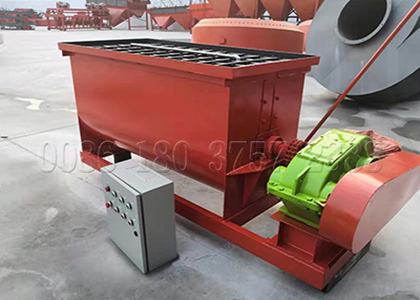 Low-cost Horizontal Mixing Machine
Model: SXWJ-7015
Power: 7.5kw
Spindle Speed: 46(r/min)
Capacity: 2-3t/h
Overall Size: 2350*1200*1000mm
Shunxin single shaft mixer:
Single shaft horizontal mixing machines are continuous fertilizer mixing machinery. That is to say, feeding material and discharging material proceed simultaneously. In addition, this mixing machine is totally automatic. You don't need to discharge the mixed material from it by yourself or workmen. Usually, you should place Shunxin single shaft mixers after a batching machine for evenly mixing the powder materials.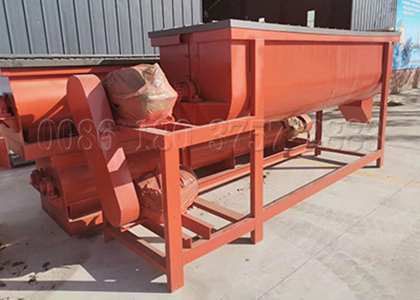 Single Shaft Powder Mixer
Model: SXSJ-7030
Power: 11kw
Stirring Speed: 54(r/min)
Overall Size: 4000*950*1600mm
Color: red(can be customized)
Shunxin double shafts horizontal mixer:
Technically, double shafts horizontal mixers and single shaft mixing machines belong to the same kind of fertilizer mixing machinery. The difference between them is that a single shaft mixer just has one stirring shaft in its mixing chamber while a double shafts mixing machine has two stirring shafts in the mixing chamber. Compared with single shaft mixing equipment, double shafts mixers are more powerful. Thus, the production capacity of Shunxin double shafts horizontal mixers is higher.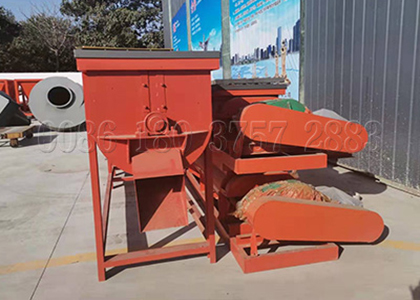 Fertilizer Dry Powder Blender
Model: SXSJ-0050
Power: 22kw
Mixing Shaft Outer Diameter: 650mm
Stirring Speed: 35(r/min)
Dimension: 6200*1300*1200mm
Shunxin BB fertilizer mixer:
If you want to make complex granular fertilizer, namely BB fertilizer, you must have a BB fertilizer mixing machine. The BB fertilizer mixer is the most important equipment for a BB fertilizer production line. Shunxin BB fertilizer mixing machines are highly efficient automatic fertilizer mixers. Besides, it has a long service life. Shunxin BB fertilizer mixers are ideal machines for a BB fertilizer plant. If want to run a very small BB fertilizer business, you even could just buy a BB fertilizer machine. With small yield, you are able to do the batching work and the packing work manually.
BB Fertilizer Blender
Model: SXBM-1525
Power: 5.5kw
Lift Power: 1.5kw
Capacity: 5-10t/h
Application: mixing pellet fertilizers
Vertical fertilizer mixing machine
Shunxin disc mixer:
We also call disc mixing machines as rotating pan mixers. A rotating pan mixer covers a small area and it is high-efficiency to mix materials. In addition, the stirring shafts of it are made of special wear-resistant alloy. With simple structure, Shunxin disc mixers are very easy to operate. Sometimes, disc mixing machines will be used as feeding devices to feed materials into several fertilizer granulators at the same time.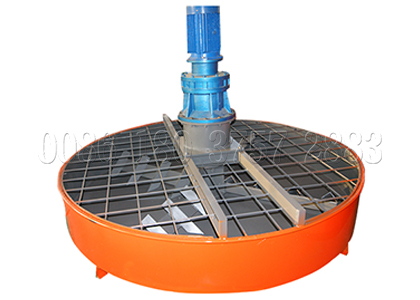 Shunxin Disc Mixer
Model: SXPJ-1600
Overall Size:1600*1600*1800mm
Power: 7.5kw
Mixing Speed: 16(r/min)
Capacity: 2-4t/h
Notice: Though we call our mixer machines as fertilizer mixing equipment, these Shunxin mixers can also used in many other industries actually. Shunxin mixing machines are very useful to blend powder and pellet materials. If you have any interests in our products, please contact us.
What are Shunxin fertilizer mixer machines made of?
The used materials determine the service life and working efficiency of a mixing machine. If the mixer equipment is just made of iron material, they will get rusty quickly and this will bring a lot of trouble for production. With the consideration of these, Shunxin adopts wear-proof and hard alloy materials to manufacture all our mixing machines. Thus, Shunxin mixing facilities are more stable and durable. For your reference, we can also customize mixers with stainless steel according to your requirement.
Tips on maintaining the bearing of a fertilizer mixer machine
Bearings are the core components for all Shunxin fertilizer mixing equipment. Also, they are kind of quick-wear parts. When you use a fertilizer mixer for some time, you should carefully check out abrasion of its bearing. If the bearing wears out seriously, you should change it in time. In order to make your fertilizer mixer work safely, you also need to do a good job for regular maintenance. There are two maintaining tips as follows.
You should lubricate the bearings of Shunxin fertilizer mixing facilities frequently. Warning: you can not add too much oil on the bearings because this will cause a bad result-the temperature of the bearing raises quickly.
If your fertilizer mixing machine is making some abnormal noises, you should halt it immediately. When you figure out the problem, you can re-start the mixing machine.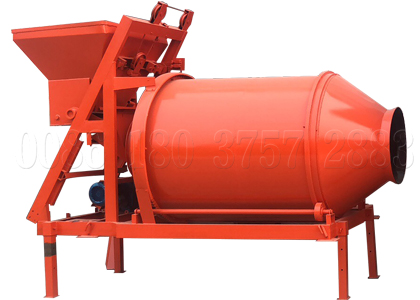 BB Fertilizer Blending Machine
Model: SXBM-1525
Power: 5.5kw
Lift Power: 1.5kw
Capacity: 5-10t/h
Application: mixing pellet fertilizers
Different working principles of Shunxin fertilizer mixing equipment
According to the working principle, Shunxin fertilizer mixer machines can be divided into two types: with stirring shaft type and without stirring shaft type.
The mixer without stirring shaft:
Only BB fertilizer mixers have no stirring shaft in its chamber among all Shunxin mixing facilities. BB fertilizer mixing mahcine is a kind of drum mixer. The inner side of it is a spiral structure. What's more, there is a big gear around the drum chamber part of this mixing machine. The gear will drive the drum part to rotate in order to blend the pellet fertilizers in it evenly.
The mixers with stirring shaft:
Except BB fertilizer mixer machine, all the other Shunxin mixing equipment including disc mixer, double shafts mixer, single shaft mixing machine and low-cost horizontal mixer have one or more agitator shaft in their mixing chambers. Different from BB fertilizer blending machines, the container parts of these mixing facilities are static and they don't rotate. The agitator shafts are very important parts of this type of Shunxin fertilizer mixing equipment. With the function of the agitator shaft, materials will be blended evenly in a Shunxin mixer.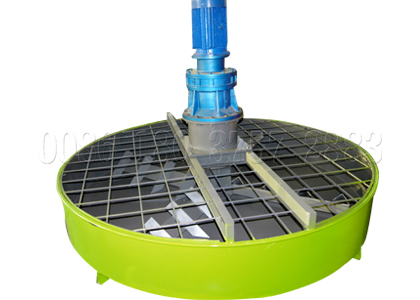 Pan Mixer
Model: SXPJ-1600
Overall Size:1600*1600*1800mm
Power: 7.5kw
Mixing Speed: 16(r/min)
Capacity: 2-4t/h
How much is a fertilizer blending mixer?
You must be very curious about the prices of Shunxin fertilizer blending facilities. To be honest, we can not provide you specific price information, because there is fluctuation in the prices of our blending machines. The prices of Shunxin fertilizer blending machines are related to many factors.
First of all, the prices of the material used for making machinery influence Shunxin mixers' prices. It is understandable that the more expensive the materials are, the more expensive the finished mixing machines will be.
Secondly, exchange rate is also a factor that will influence prices. By the way, you can pay in dollar or RMB. If you want to pay in other currency, you ought to negotiate with our sales.
Thirdly, it's up to what kind of motor that you want to equip with your fertilizer mixer machine. If you choose an imported German motor such as Siemens motor or Schneider motor for your mixer machine, it will cost a little more. If you choose a quality Chinese motor that, you could save some money.
Shunxin fertilizer mixing facilities are attractive in price and quality. Moreover, we often hold some non-scheduled promotion activities. If you have interest in our fertilizer mixers, you can send inquiry to us.