Disc pelletizer is a kind of high-efficiency fertilizer making granulator. These disc pelletizers of Shunxin Heavy Industry can help you to produce quality pellet fertilizer. By the way, they can make organic pellet fertilizer and compound pellet fertilizer. In addition, they have a simple structure and are easy to be maintain and adjust. For the design highlights of Shunxin disc granulators, you should know the pellet discs are equipped with a automatic cleaning device. This device will prolong the disc pelletizer's service life. With reasonable and economical prices, Shunxin disc pelletizers are the hot sale products in the global market. There are different sizes of Shunxin disc granulators for your choice.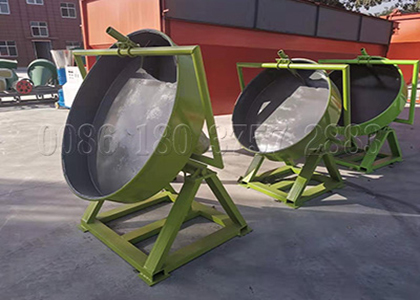 Disc Pelletizer
Model: SXYZ-500
Edge Height: 200mm
Rotary Speed: 32(r/min)
Capacity: 0.02-0.05t/h
Total Power: 0.55kw
Dimension: 650*600*800mm
Different models of Shunxin disc pelletizers
In order to meet the different capacity requirements of you, Shunxin's engineers have designed 12 different models of disc granulators. In general, the minimum disc pelletizers are often used in fertilizer laboratory. As for high-output disc pan pelletizer, you can make use of them to produce organic and compound fertilizers.
For all models of Shunxin disc pelletizers, we manufacture them according to high and uniform standards of Shunxin Heavy Industry. If you think our disc granulators can not fit your capacity needs, you can also contact us. Shunxin Heavy Industry promises to provide tailor made disc pelletizers for you.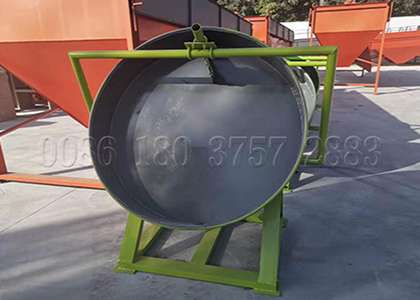 Disk Organic Fertilizer Pelletizer
Model: SXYZ-800
Edge Height: 200mm
Rotary Speed: 21(r/min)
Capacity: 0.1-0.2t/h
Total Power: 1.5kw
Dimension: 900*1000*1100mm
It is true that quality disc granulators also needs befitting raw materials to produce smoothly. Thus, there are some raw material requirements as follow.
Raw material requirements for granulation process
In general, disc pelletizers do not require too much for the raw materials. To be honest, disc granulators just requires that the moisture content of the raw materials should be among 25%~30%.
If the raw material is too dry, you should add some water or adhesive into it.
If the raw material is to wet, you can use a dewatering machine to reduce moisture content before composting process.
Working principle of Shunxin disc granulator
Knowing the working principle of a disc pelletizer would help you to learn more about this granulator.
Disc granulator is powered by a main motor which drives the pulley and belt of the disc pelletizer directly. Then through the speed reducer, the pinion is driven to rotate. What you should know is that the pinion connects with the master gear of the disc granulator. Therefore, the pinion will drive the master gear to move. With perfect design, the firm principal axis of the main frame can support the disc part.
When the disc rotates, the raw material in it rotates and collides with each other too. In addition, with the function of a spraying device, the raw material will agglomerate together and become pellet fertilizer gradually. During the rolling process of the pellet fertilizer, the water in the pellet will be extruded on the surface. As the water evaporates away from the surface, the pellet fertilizer will become harder. When the pellet fertilizer comes to the finished pellet state, it will fall on the conveyor from the lower edge of the disc. Then, a belt conveyor will transport the the granulated pellet fertilizer to the rotary fertilizer dryer.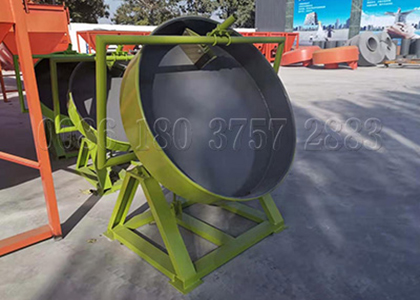 Organic Fertilizer Making Disc Granulator
Model: SXYZ-1200
Edge Height: 250mm
Rotary Speed: 21(r/min)
Capacity: 0.3-0.5t/h
Total Power: 1.5kw
Dimension: 1200*14700*800mm
Smart designs applied for a better performance
In order to avoid that the raw material sticks on the bottom of the disc, Shunxin Heavy Industry has designed an automatic cleaning device(scrapper blade) on the disc. When the raw material rotates in the disc, the scrapper blade will scrape on the bottom of the disc simultaneously. Hence, the service life of Shunxin disc pelletizing machine gets prolonged greatly, because you do not need to halt the disc pelletizer and clean the disc bottom frequently. By using Shunxin disc pelletizers, you can also save a lot of labor.
Now, you have understood the working process of a disc pan pelletizer. If you want to buy a disc pelletizer for your factory, Shunxin company would like to give you some suggestions.
How to buy a disc pelletizer?
Disc pelletizers have simple structure and they are easy to be operated. Normally, a disc pelletizer can work steadily and there won't be any big problem when it is working. Even so, if you want to purchase a disc pelletizer, here are 6 aspects that you should notice.
You should focus on the arc construction of the disc. Defective arc construction will cause 2 problems: 1. The produced pellet fertilizer will be different in size; 2. The granulation rate of this disc pelletizer will be pretty low.
You should check out if the motor is suitable for the corresponding disc pelletizer. Many irresponsibledisc pelletizers manufacturers will equip the disc granulators with low-grade motors, which will make the disc pellet making machines break down. Shunxin Heavy Industry is a conscientiouscompany, and we will always choose high-quality motors for our disc pelletizers.
You should pay more attention to the parameters of the reducer and motor of the disc pelletizer you choose.
High-efficiency and energy-saving disc pelletizers are of the good option .
To find out if the disc part of the disc pelletizer is made of antirot material. As we all know, the disc part is easy to be rusty because the moisture content of the raw material is among 25%~30%.
If you are not buying a disc pelletizer for experiment, Shunxin Heavy Industry suggests you not buy a disc pelletizing equipment of too smallsize. After all, the bigger the granulating disc is, the more the output is. Obviously, you will make more profits with a larger disc granulation facility .
If you buy a disc pelletizer from Shunxin according to these suggestions, you'd better to learn some maintenance knowledge from our experts.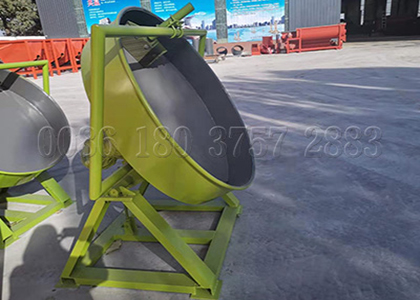 Disc Pelletizing Machine
Model: SXYZ-1800
Edge Height: 300mm
Rotary Speed: 21(r/min)
Capacity: 0.8-1.2t/h
Total Power: 3kw
Dimension: 2060*1700*2130mm
How to use disc pelletizer for forming a fertilizer production line?
This plate type fertilizer granulator is an ideal fertilizer pellet making machine for both organic and compound fertilizer making. Using this machine for making fertilizer pellets. The finished pellet fertilizer of Shunxin granulating discs is roundish and hard. In general, Shunxin advises you to employ this kind of granulator if your annual capacity is not exceeding 50,000 tons.What's more, compared with other kinds of Shunxin granulators, the disc granulators is the most cost-effective one. It is a good choice for you to use this machine as granulator for making fertilizers.
As we all know, if you want to make organic waste materials into organic fertilizers, what you need to do firstly is composting. Sometime, you may need to dewater these fresh waste before composting. And with a commercial composting machine, you can finish composting rapidly. Then it is time for crushing. It is necessary for you to make materials into powders for granulating. For your information, if you are going to add some other powdery elements into organic materials powders, you should mix them evenly. While, if you use disc pan type fertilizer pellet making machine for making compound fertilizers, you had better crushing and batching them firstly instead of dewatering and composting.
For your information, it is necessary for you to dry the granulated fertilizer pellets and cool them. And for your commercial purpose, the screening machine and coating machine will make your products better.
For better and safer performance of disc pelletizers, what do Shunxin's designers say?
Watch out its working temperature in every parts:In the daily use of disc pelletizers, the working staff should pay attention to the temperature variation of the granulating disc carefully. If the bearing part of the reduce is hot, you should halt the disc pelletizer immediately and recondition in time. If the bearing part of the main frame is hot, you should halt the disc granulator equipment quickly and add some butter on it.(Tips: you should add butter in the bearing housing every 5 days.) When the disc pelletizer can not work steadily, you should check out if the couplings are connected too tightly. If so, you should loose them to some degree.
Get your operator trained: It is necessary for the working staff to master the operation of the disc pelletizer. If they are mastering at operation, they can find out and figure out the problems without delay. A good job of daily maintenance for the disc pelletizers not only can guarantee the output of your factory, but also can prolong the service life of the disc fertilizer pelletizer, which helps to save spending for your enterprise.
Shunxin Heavy Industry is a reliable and influential disc granulation machine factory, and we can supply high-quality disc pelletizers to you. If you have interest in Shunxin disc pan pelletizer, you can send inquiry now!