Organic fertilizer is a kind of green and eco-friendly fertilizer which can provide many nutrients for the crops. In modern agriculture, organic fertilizer is very important. The first step of making organic fertilizer is to compost the organic materials. Generally speaking, only thoroughly composted organic matters are suitable for producing organic fertilizer. Making organic fertilizer powder is the easiest and the most economic way for your commercial organic fertilizer plant. Shunxin can provide you the complete machine for your commercial compost fertilizer manufacturing.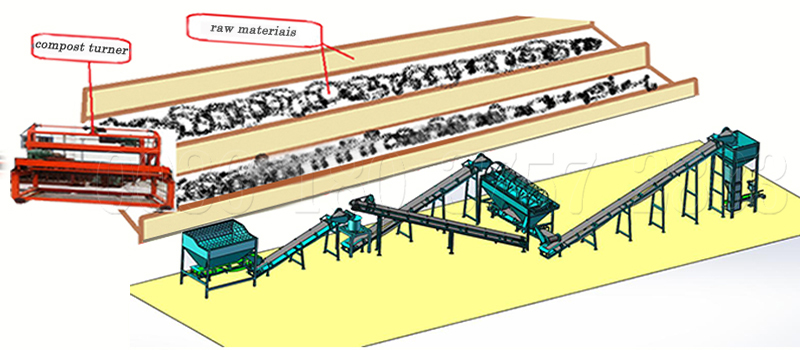 What commercial composting equipment you can use for composting rapidly?
Composting is the first step for making organic materials into available fertilizers. During the composting process, a lot of poisonous gases will be generated if there is lack of oxygen in the composting pile. In order to make quality organic fertilizer, people invented some industrial composting equipment to solve this problem. The commercial composting equipment includes organic fertilizer fermentation tank and all kinds of Shunxin compost turners. Fermentation tanks adopt sealed fermentation method. This processing method is clean and will not contaminant the environment. Another commercial compost equipment is compost turners. They employ open-air fermentation method. You should place the organic wastes on the ground or in a fermentation groove.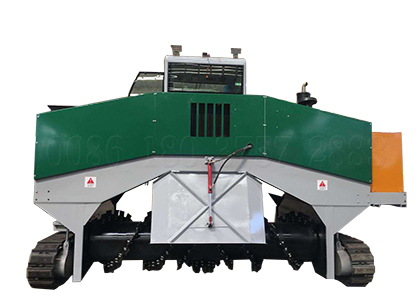 commercial compost turner for sale
Model: SXLDF-2300
Turning Width: 2.3m
Turning Height: 0.6-1m
Row Spacing: 0.8-1m
Power: 75kw
Shunxin has six different types of compost turners for you to choose. Both Shunxin fermentation tank and compost turner machines are practical industrial composting equipment. They are mainly used to help compost solid organic wastes including animal wastes, municipal solid wastes(MSW), and kitchen wastes.
Shunxin fully automatic composting machine for your commercial composting plant
The fermenter for biofertilizer production can be used to process pig manure, chicken manure, cow dung, sheep manure, residue of mushroom, herb residue, stalks of crops and so on. Fermentation pots have five advantages.
An organic fertilizer fermenter has less space demand(it just covers an area of 10m3-40m3).
It only takes around 10 hours to finishing the whole composting process.
There is no pollutes generated through the processing of a fermentation tank, because this kind of commercial composting equipment are sealed machines.
You can adjust the temperature in the fermentation pot. In general, you should adjust the temperature to 80-100℃ in order to kill harmful bacteria and pest eggs in the raw material.
In addition, the fermenters for biofertilizer production are fully automatic.
With all these advantages, fermenters are greatly useful commercial composting machines for organic wastes recycling factories and organic fertilizer producing plants. In order to fit your demands, Shunxin can customize fermentation tanks of different capacity(5m3-150m3) and different forms(vertical or horizontal).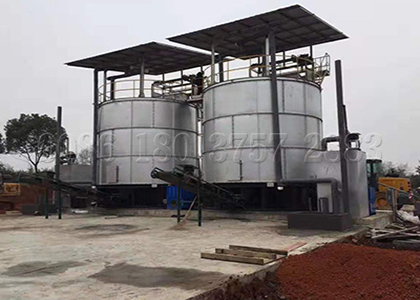 Fully automatic composting machine for sale
Model: SXFJG-5
Heating Power: 24kw
Stirring Power: 7.5kw
Stirring Speed: 3(r/min)
Overall Size: 2200*2200*5300mm
What commercial compost turner machine you can use in Shunxin for your dynamic composting requirements?
Besides the fully automatic compost machine, we also has semi-automatic compost turner machine for you. They utilize dynamic composting methods. And they can be divided into two types. If you use the no-labor needed turner, it can help you reduce your labor force. And for your small scale composting plant, Shunxin also has suitable commercial turner machine at low cost.
Commercial composter for reducing your labor force
Chicken manure fertilizer groove type compost making machine:
As the name suggests, obviously, groove type organic chicken manure compost turning machine require that you should prepare a compost groove. The groove type compost turner should be assembled above the groove to turn the organic chicken litter material for making chicken manure fertilizer. At present, Shunxin groove type compost turners are the most common commercial composting facilities. Therefore, if you need one, please contact us!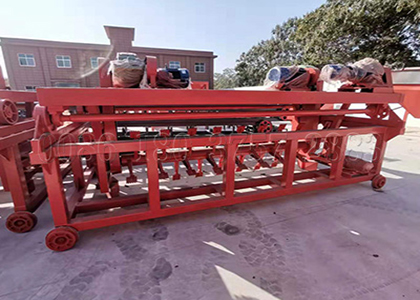 Groove Type Compost Turner
Model: SX-3000
Main Power: 18.5kw
Mobile Power: 1.5kw
Lift Power: 1.1kw
Application: Turning the compost on the groove
Large scale cow dung composting equipment:
Wheel type composting turners are the patent commercial composting equipment of Shunxin Heavy Industry. Maximally, it can process the compost pile of 3 meters high. This kind of compost turner is highly automatic, and there is no need of workman to operate it when it is working. This machine is necessary before your cow dung fertilizer granulating.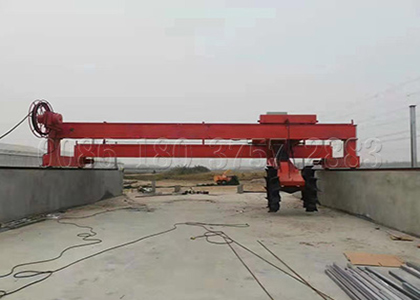 Wheel Type Compost Turner Making Machine
Turning depth: 1.5-3m
Turning span: ≤30m
Advantages: Highly automatic, energy-saving…
Color: red(can be customized)
Application: composting organic wastes to fertilizer
Thorough decomposing turning equipment for high-quality manure fertilizer composting:
Chain plate type compost turning equipment adopt frequency control system. Thus, our chain plate type compost turners can adjust its composting speed according to the resistance of the organic materials. As long as you equip a moving car at the end side of the composting groove, you can move a chain plate type compost turning machine from several neighbouring grooves. If you want to make high-quality organic manure fertilizers, this machine can help you decompose the organic manure materials thoroughly.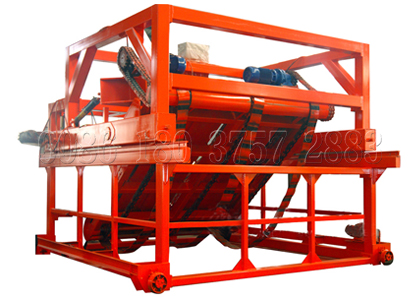 Chain Type Compost Fertilizer Making Machine
Model: SXC-2
Total Power: 25kw
Composting Span: 2m
Moving Speed: 0-6m/min(adjustable)
Capacity: 50-100m3/h
Windrow composting machine at low cost in Shunxin for commercial compost production
Small scale commercial composting turner with multi function:
Forklift type compost turners are specially suitable for small-scale organic waste processing plants. Honestly speaking, it is also a forklift, so you need to hire someone to drive it. Differently, there is a crushing device in the bucket of Shunxin forklift type compost turning equipment. This crushing device is very helpful to compost the organic raw material piles. For your reference, if you change the bucket into a ordinary one, you can make use of the forklift type compost turning facilities just as a forklift. Thus, this small scale compost turner is a multi-purpose commercial compost equipment.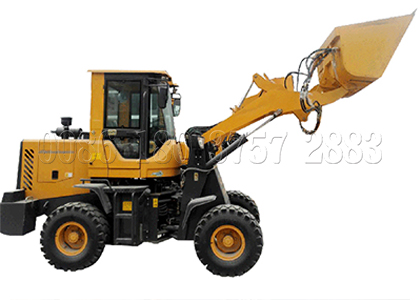 Multi-functional Compost Turner at Low Cost
Model: SX-300
Color: Yellow(can be customized)
Size: 4930*1620*2660mm
Application: Turning organic wastes piles
Feature: Also can be used as a forklift
Hydraulic compost windrow turner:
We also call the crawler type compost machine as caterpillar track windrow turner. You do not need to dig a groove for this windrow turner because it can process the composting piles on the ground directly. With sharp blades, Shunxin caterpillar track windrow turner can well crush the organic material. During the crushing process, more air is added into the compost pile, so the material will get well composted.
Crawler Type Compost Turner
Model: SXLDF-2300
Turning Width: 2.3m
Turning Height: 0.6-1m
Row Spacing: 0.8-1m
Power: 75kw
Moving type compost turner at factory price:
Shunxin moving type compost turning equipment is a very flexible windrow turner. Just like crawler belt compost turning facilities, moving type compost turners require no groove. It is designed with four wheels, so it can move forward, move back and turn a corner. If you can drive a car, you will learn how to operate this moving type commercial compost machine at a very short time.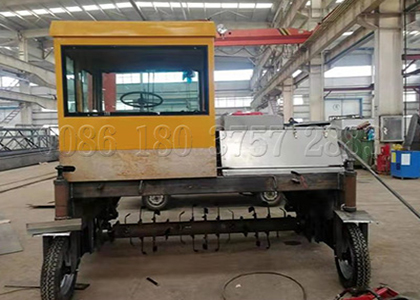 Economic Compost Turner for Small Scale Plant
Model: SXM-240
Compost Width: 2.6m
Compost Height: 0.8-1.2m
Moving Speed: 4.5-5.5m/min(adjustable)
Color: red(can be customized)
How to make compost rapidly by using Shunxin commercial composting equipment?
How does fermentation tanks work for fermenting in a short time?
Shunxin fermentation tanks adopt sealed fermentation method. At the beginning, you should pour the organic materials and the fermentation agents into the fermenter according to certain proportion. Then, you ought to adjust the temperature of the commercial compost equipment to 80-100℃. Under this temperature, the harmful bacteria and pest eggs will be killed completely. There is a mixing device in Shunxin fermentation tank. After being composted for some time, the organic materials need to be mixed evenly. In addition, equipped with a deodorizing device, Shunxin organic fertilizer fermenter is eco-friendly. The stinky gases produced in the composting process will be collected in the deodorizing device. After processing, the stinky gases will become non-polluted gas. The composting process in Shunxin fermentation tank just lasts around 8 days.
What technology does compost turning equipment use for your commercial business?
All Shunxin compost turners employ open-air fermentation method, so the working process of different compost turners is very similar. As the compost turner move forward slowly, the blades of the lower part of the compost turner will turn the bottom material to the surface of the compost pile. In this way, all the organic material will be composted thoroughly and evenly. Compost turning machine can also crush the caked organic material. In addition, you can adjust the composting speed of the compost turner according to density status of the organic material. In general, it takes about 20 days to compost organic wastes by Shunxin compost turners.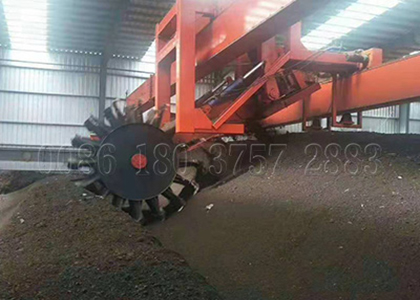 Wheel Type Organic Turning Machine
Turning depth: 1.5-3m
Turning span: ≤30m
Advantages: Highly automatic, energy-saving…
Color: red(can be customized)
Application: composting organic wastes to fertilizer
What is commercial composting process?
Generally, it is applicable for you to use the composted organic fertilizers into your crops directly. And for commercial use, there is powdery fertilizer production line for you to choose. However, you do not need to equip with too much equipment like organic fertilizer pellet making line. What you need is only a fertilizer powder making machine and powdery fertilizer packing scale. What's more, if you want to make your powdery fertilizers higher quality, a screen machine will be more helpful.
Composted organic waste fertilizer pulverizing
After the composting, most of the fertilizers will be powders. While, there will be some potential caking. For making high-quality fertilizer powder, it is necessary for you to equip with a fertilizer crusher. With the help of Shunxin pulverizing machine, you can get fine organic fertilizer powders. Especially, our organic manure pulverizers use advanced designs for making fine powder.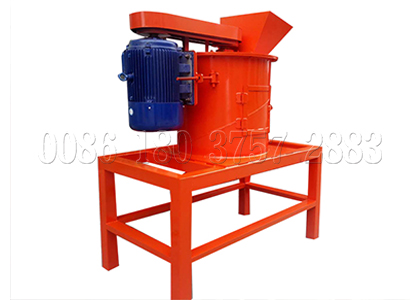 Crushing machine for composted fertilizer powder making
Model: SXFLF-1000(can be customized)
Power(kw): 37
Inlet Size(mm): 650×450
Dimensions(mm): 1800×1200×2500
Capacity(t/h): 8-15
Powdery fertilizer screening for high-quality products
The pulverizing can help you make fine organic manure fertilizer powder. While, for your commercial purpose, a screening machine can select your unqualified powdery fertilizers out, improving the quality of finished products. Meanwhile, it is also available for you to re-crush the unqualified powders for finer powder manufacturing.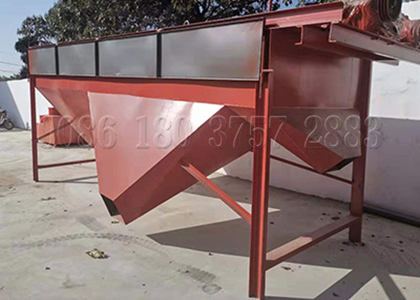 Rotary compost powder screening machine
Model: SXGS-1020(can be customized)
Power(kw): 3
Reducer Model: ZQ250
Drum Speed(r/min): 21
Capacity(t/h): 1-2
Bulk packing efficiently for commercial purpose
In your commercial powdery fertilizer manufacturing process, a powder packaging machine will be helpful. Shunxin automatic paking machine utilizes PLC technology for improving the accuracy and efficiency for your fertilizer packing. Meanwhile, there is a belt inside the machine for avoiding the blocking. Thus, you can use our machine for your powdery fertilizer packing freely.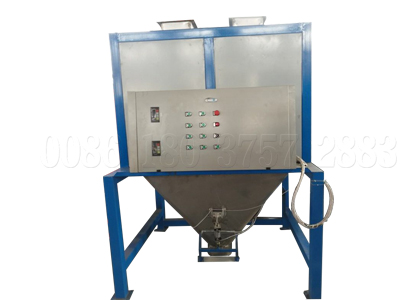 Powdery fertilizer packing machine for composted fertilizer manufacturing
Model: SXH-A50
Function: packing and weighing materials
Weight: 600kg
Voltage: 380v
Packing Speed: 3-4bags/min
Degree of Automation: fully automatic
What is the cost of Shunxin commercial composting equipment?
Generally speaking, composting for commercial purpose, the most important thing is composting. Thus, it is important for you to choose a suitable compost making machine. While, the cost of composting machine is a large factor for your whole equipment cost.
How much will it cost if you use fermentation tank for your commercial manure fermentation?
Speaking of low cost commercial composting equipment, they can not be fermentation tanks. Currently, fermenters for biofertilizer production are the most advanced organic fertilizer fermentation equipment. This kind of industrial composting equipment can compost organic matters without generating any contaminant. Compared with compost turners, fermentation tanks are more expensive. Of course, the price of the tank-shape commercial compost machine is related to its capacity. Shunxin can customize small-size fermenter whose capacity is 5m3 for you. And this small one won't cost you too much.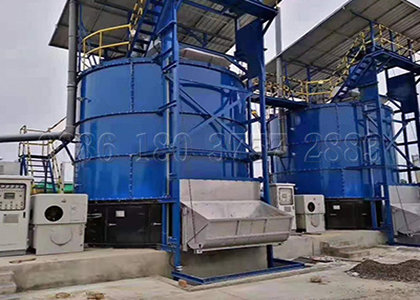 Shunxin organic fertilizer fermentation machine
Model: SXFJG-5
Heating Power: 24kw
Stirring Power: 7.5kw
Stirring Speed: 3(r/min)
Overall Size: 2200*2200*5300mm
What are the prices of Shunxin commercial turner machine?
Among all the six types of compost turners of Shunxin Heavy Industry, the wheel type compost turning machine is on the top of the price list. In contrast, the groove type compost turning machine and the moving type compost turner are relatively inexpensive commercial composting equipment. The prices of chain plate type compost turner, crawler type compost turning equipment and forklift compost turner are on the average. If you need more price information about our compost turning machines, you could send inquiry to us. Our sales will provide you detailed quotation for you.
Shunxin prices our all commercial composting equipment at reasonable prices. Thus, you can rest assured that we will provide you economical organic fertilizer fermentation facilities for you.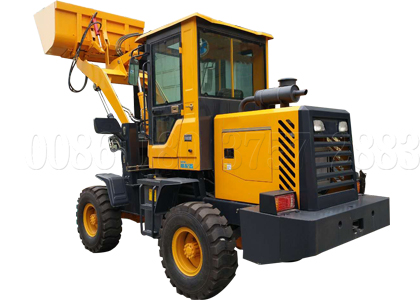 Forklift Compost Turner
Model: SX-300
Color: Yellow(can be customized)
Size: 4930*1620*2660mm
Application: Turning organic wastes piles
Feature: Also can be used as a forklift
How to operate commercial composting turners safely?
In order to avoid accidents, you should ring the alarm bell before you start a compost turning machine.
If you want to recondition your composting turner, you should halt it at first. Notice: you can't inspect your commercial composting equipment when it is working.
You should operate the composting turner to move at the regulated speed. The composter turners are not allowed to move too fast.
If you are not the operator of the compost turner, you can not operate it without any permission from professional staff.
You should cut off the power if you need to change trunking or cable of your composting turner.
In a word, Shunxin Heavy Industry is a dependable industrial composting equipment manufacturer. Our experts can guide you how to operate a compost turning equipment and fermentation pot correctly. For medium-scale and large-scale organic wastes processing plants, commercial composting equipment are necessary machines. If you want to buy a organic fertilizer fermenter or a compost turner, please contact us.
How does the moving type organic compost turning machine turn your compost?
Q&A from our customer for Shunxin commercial composting equipment
Q: How should I deal with my fresh organic cow dung before composting?
Answer: Generally, the fresh cow dung has high moisture content. While, making the moisture content of materials between 50%-60% will be more suitable for compost turner machines. With a cow dung dewatering machine, you can lower the moisture content.
For your information, if you use the commercial fermenter for organic cow dung fertilizer making, it is unnecessary for you to dewater. Because it can process raw materials, whose moisture content is about 80%.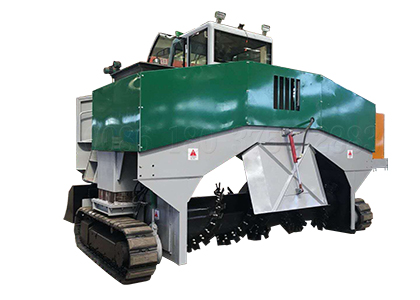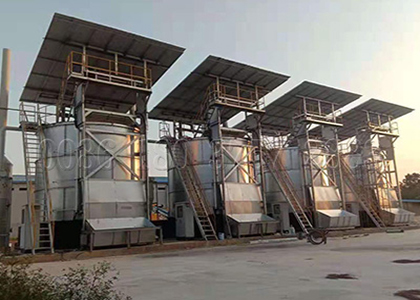 Q: When should I turn the raw materials by using the compost turner machine?
Answer: It mainly depends on the temperature of the compost. Because of the microorganism activities, the temperature of compost will rise. You had better turn it when the temperature reaches about 60°C. When the temperature does not rise, it means that the composting process is finished. And then, you do not need to turn the compost.
Q: How much materials do I need for increasing the carbon content when composting?
Answer: The C/N ratio is an important factor in organic fertilizer composting process. For improving the composting effects, you had better add some materials, which has high carbon content when composting. For example, in your chicken manure compost making line, the ratio of chicken manure should be about 50%-60%. And then you can add 20%-30% carbon content, such as straws, stalks and so on. Meanwhile, it will be better for you to add 10% mineral powder.