Why coating pellet fertilizers by fertilizer coating drums?
In agriculture production, fertilizers pellets are very common nutrients. Many fertilizers granular are enveloping fertilizer pellets that are processed by fertilizer coating drum. In fertilizer pellet making lines, coating process is the next to last step. Coated granular fertilizers are popular in the fertilizer market. Here, Shunxin will analyse the reasons why most pellet fertilizers are treated with coating agents.
There are mainly four reasons:
Through the processing of fertilizer coating drum, the coated pellet fertilizers will not cake together. Therefore, you can store the coated granular fertilizers for a long time.
Coated pellet fertilizers are kind of eco-friendly fertilizers. If the fertilizer pellets get coated with coating agents by fertilizer coating machine, there will be less dust generated when the workers move the fertilizer bags.
Coating process can prevent the fertilizer pellets absorbing moisture from the air. After the coating process, there will be a protecting film on the surface of the fertilizer pellets. Hence, the inner of the granular fertilizer will not become wet and bad.
What's more, coated fertilizer pellet looks more lustrous. That will make your fertilizer products more popular in the market.
If you want to make fertilizer pellet containing little trace elements, you can appropriately add the trace element in the coating agent.
The effective period of coated granular fertilizer is much longer. With a protecting film on the surface, the coated fertilizers will slowly release the available nutrients to the soil.
We have learned why we should coat the pellet fertilizer. In the following, Shunxin will show you some common coating materials of granular fertilizer production.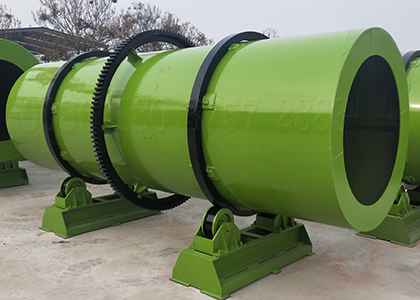 Fertilizer Coating Drum
Model: SXBM-1200
Power: 7.5kw
Capacity: 7-10t/h
Dimension: 1200*4000mm
Rotating Speed: 12(r/min)
Coating materials for granular fertilizer
There are a lot of materials as coating materials in fertilizer production. The coating materials, namely the coating agents, include fine powdery coating agents and oily coating agents. Shunxin will list some coating materials as follows:
Powdery coating agents: sulphur powder, high-molecular polymer, lime powder…
Oily coating agents: resin, paraffin, asphalt…
We just show you some of the coating materials for you here. For your reference, it is not true that a kind of fertilizer coating agent is suitable for all kinds of pellet fertilizers. If you want to start your fertilizer business, you should find suitable coating material according to the ingredients of the fertilizer you'll produce.
What's more, the dosage of fertilizer coating agent is pretty little. For example, if you want to coat 1 ton pellet fertilizer through fertilizer coating drum, you just need to prepare 3kg coating agent.
Shunxin high-quality fertilizer coating drum for sale
Fertilizer granule coating machines are very important in compound and organic granular fertilizer production lines. So, if you want to set up a fertilizer plant, you need to choose a high-efficiency rotary fertilizer coating machine for your plant. We promise Shunxin fertilizer coating drums will meet your needs. In the following content, we will introduce the construction and the working principle of Shunxin fertilizer coating machines.
Construction of fertilizer coating drum
Bracket part: The function of the bracket part is to support the rotating part of the fertilizer coating drum. Therefore, it should be very firm. Considering this, Shunxin engineers specially employ high-quality anti-corrosion and wear-resistant materials for this bracket part. In this way, you can prolong the service life of the whole machine greatly. In addition, there are lifting hooks at the four corners of this part, and this makes it convenient to move the fertilizer coating drum.
Transmission part: The transmission frame is welded by high-quality steel. The motor drives the pulley, the V-belt and the reducer to move. Next, these devices will drive the main shaft to work.
Outside big gear: Three big gears are fixed outside the rotating part. They are combined with the transmission pinion gear for driving the drum part to rotate.
Rotating part: It is welded with high-quality carbon steel plate. Our engineers design the inside of this rotating part with a special structure. We use polypropylene lining or acid-resistant stainless steel to make inside wall of the fertilizer coating drum, which is anti-corrosion and durable.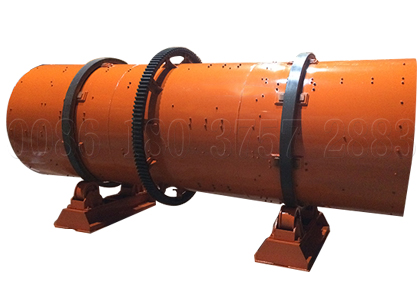 Fertilizer Coating Machine
Model: SXBM-1800
Power: 22kw
Capacity: 30-40t/h
Dimension: 100*7000mm
Rotating Speed: 12(r/min)
Working principle of fertilizer coating machine
The granular fertilizers enter into the rotating part of the fertilizer coating drum machine from the feeding port. And then they will rotate along with the drum part. Near the discharge port, there is a sprinkling device, in which you should put the fertilizer coating agent. When the fertilizer pellets move to the sprinkling device, the prepared oily or powdery coating agent will be sprayed on the surface of the granule fertilizers.
In the above content, we know that the dosage of fertilizer coating agent is little. Therefore, even if you choose oily coating agent, you do net need to dry the coated fertilizer pellets again. Of course, cooling process is not necessary either. The next step is to pack the weigh the coated fertilizer pellets. For your information, Shunxin also have automatic packing scales.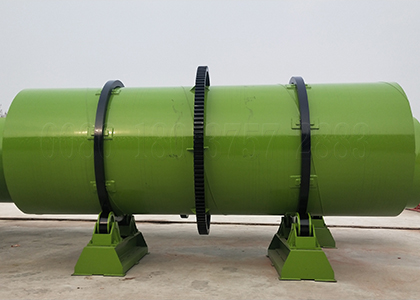 Rotating Drum Coating Machine
Model: SXBM-1500
Power: 11kw
Capacity: 15-20t/h
Dimension: 1500*6000mm
Rotating Speed: 12(r/min)
4 tips on installing a fertilizer coating drum
In order to use Shunxin rotary fertilizer coating drum safely and for a long time, you should pay attention to how to install the fertilizer coating machine correctly. There are 4 installing tips Shunxin would like to provide you.
You should install the fertilizer coating drum machine on a concrete foundation horizontally. Besides, you should fix the foundation bolts tightly.
When you install the rotary fertilizer coating machine, you should place it on the flat ground. You need to pay attention to this point very much, in case that any trouble will appear in the future.
You should check the power line and the control switch carefully. If any of them can not work normally, you need change it immediately.
After the inspecting process, you should do a test-run on the fertilizer coating machine without any load. If the coating drum can work normally,you can use it in production.
Dependable fertilizer coating equipment manufacturer: Shunxin Heavy Industry
Shunxin Heavy Industry has gained more than thirty years experience in fertilizer equipment manufacturing industry. We can provide you high-quality fertilizer coating drum, and we can also provide you first-class pre-sale, on-sale and after-sale service.
Apart from rotary fertilizer coating drum machine, Shunxin also manufacture other fertilizer equipment. For instance, we can produce commercial composting equipment, different types of fertilizer granulators, fertilizer mixer and crusher, fertilizer dryer machine, automatic fertilizer packing scale and so on.
If you want to know more details about our fertilizer making machines, you can contact us now!