Pan granulator is a kind of fertilizer machine for making organic pellet fertilizers, compound pellet fertilizer and organic-inorganic pellet fertilizer. Pan granulators play important role in organic and compound fertilizer production lines. Shunxin Heavy Industry can provide you quality pan-shape granulating machine.
With Shunxin pan granulating machine, you can save a lot of labor and improve the efficiency of labor because the granulation rate of Shunxin pan granulators is above 93%.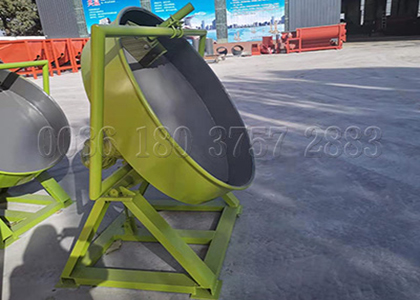 Pan Granulator
Model: SXYZ-600
Edge Height: 280mm
Rotary Speed: 33.5(r/min)
Capacity: 0.05-0.1t/h
Total Power: 0.75kw
Dimension: 800*700*950mm
The constituent parts of a pan granulator
The rotary pan part of this pan granulator has 3 discharge ports, which means the pan pelletizer is high-efficiency. What's more, the speed reducer and motor of the pan pelletizing machine employ flexible belt drive, so the pan pelletizer can start steadily. Without large impact force, the service life of the pan granulator will get prolonged.
As for the bottom of the pan granulating facility, Shunxin Heavy Industry has adopted superior quality alloy to make the bottom. Therefore, you can rest assured that the bottom of the pan granulator is sturdy, durable and nondeformable.
Besides, the master gear of the pan granulator is made by advanced technology and the gear is serviceable.
Moreover, the inner side of the pan pellet machine has been covered with compound glass fiber reinforced plastic(FFP) that is antirot.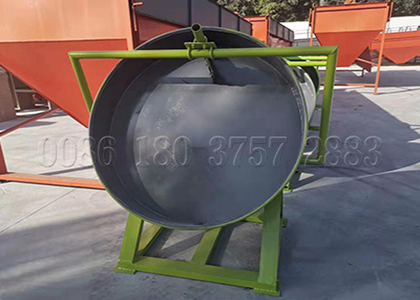 Disk Fertilizer Granulator
Model: SXYZ-1000
Edge Height: 250mm
Rotary Speed: 21(r/min)
Capacity: 0.2-0.3t/h
Total Power: 1.5kw
Dimension: 1200*950*1300mm
All in all, Shunxin pan pellet machine have the advantages of high granulation rate, steady working, firmness and long time use. If you have interest in Shunxin pan granulators, you might want to know more details about the main structure of them.
What is the main structure of a pan granulator?
In general, there are 5 parts of a Shunxin pan granulating machine. Shunxin will introduce them to you as follows:
Rotary pan: It is made of several steel plates with different thickness. The steel plates are with certain strength and stiffness.Most importantly, this is the core component for pelletizing raw materials.
Scraper blade: It is connected to main frame by bolts and it is mainly used to clean the raw material on the bottom of the rotary pan.
Speed reducer: The rotary speed of the pan granulator can be adjusted by the speed reducer. You can make the pan rotate at the required speed according to the amount of the raw material in the pan.
Motor: Each pan pelleting machine is equipped with a motor. For your reference, Shunxin Heavy Industry has prepared a operation manual which includes the methods of operation and maintenance.
Main frame: It consists of channel steel, supporting other components of the pan granulators. Notice: you must make sure that you place the main frame of the granulator on the flat ground.
After knowing something about the main structure of pan granulators, you might also want to know the stunning features of them.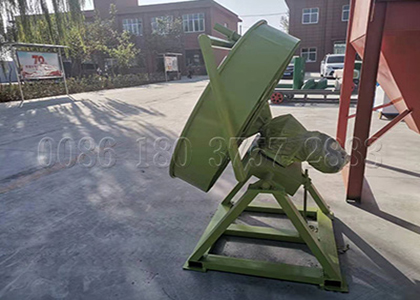 Pan Fertilizer Pellet Making Machine
Model: SXYZ-1500
Edge Height: 300mm
Rotary Speed: 21(r/min)
Capacity: 0.5-0.8t/h
Total Power: 3kw
Dimension: 1760*1500*1950mm
Five stunning features of pan granulator machines?
It is understandable that when investors want to invest a machine, they must desperately want to know the stunning features of the machine too. In the following, we will show you 5 excellent features of plate granulators:
Less cost:
Compared with other technology of making pellet fertilizer, you can save at least 30% of the investment amount by the technology of pan granulation.
Wide application:
You can use pan granulation machines in many industries. First of all, you can use a pan granulator to produce organic pellet fertilizer with organic wastes. Secondly, you can employ a plate granulator to make compound fertilizer pellet with the raw materials of muriate of ammonia, ammonia sulfate, ammonium bicarbonate, muriate of potash and so on. You can use different formulas to produce pellet fertilizer through Shunxin pan pellet facility. There is one important point that you should notice: pan pelleting machines require that the moisture content the raw materials(both of organic and inorganic materials) should be among 20%~30%.
Shunxin disc pan granulation machine works for making organic manure fertilizer pellets
High efficiency:
Pan granulators are high-efficiency pellet machine. You can use the granulators to make quality pellet fertilizer that is popular in the fertilizer market.
High profit:
The raw materials of pan granulator is inexpensive and easy to get while the there is a huge demand of pellet fertilizer in the market, so you can get a rapid payback.
Easy operation:
Pan granulators are easy to operate and adjust. The working men can learn how to operate this granulator quickly, so you can start your pellet fertilizer business as soon as possible.
Now that we've mentioned the operation of the pan pelletizers, what should you pay more attention to when operating a Shunxin pan granulator?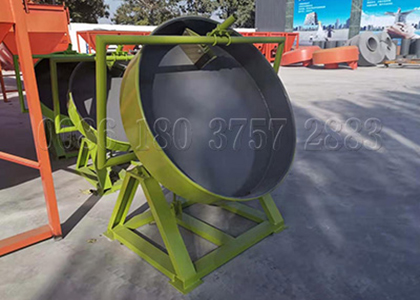 Pan Granulation Facilities
Model: SXYZ-2000
Edge Height: 350mm
Rotary Speed: 21(r/min)
Capacity: 1.2-1.5t/h
Total Power: 4kw
Dimension: 2260*1650*2250mm
For promoting safety performance of your pan granulators, do these 4 steps.
With more than thirty years experience in pellet fertilizer equipment, Shunxin Heavy Industry is willing to provide you 4 tips on operation cautions of a pan granulator. They are:
Before you start to make use of a pan granulating machine, you should make sure that the inside of the rotary pan is empty. What's more, you should preheat the machine before you put it into use.
During the working process of a pan granulator, you should be aware of the temperature of the raw material and adjust the temperature in time.
When the granulating machine is working, you need to be sure that the pan rotates widdershins. If you find that the pan granulator is rotating clockwise, you should halt the granulator immediately in order to avoid other problems.
Normally, you should inspect and clean the pan granulation equipment after using it some time. By doing so, you can use your granulator for long.
Now, you have known more details about Shunxin granulators. For your better understanding, we will present you some difference between pan granulators and double roller granulators.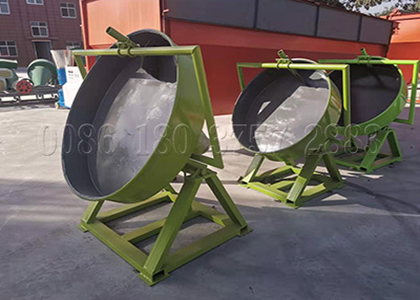 Pan Granulation Machine
Model: SXYZ-2500
Edge Height: 450mm
Rotary Speed: 14(r/min)
Capacity: 1.5-2.0t/h
Total Power: 7.5kw
Dimension: 2900*2000*2750mm
Specific difference between pan granulators and double roller granulators
In agriculture, pellet fertilizer is always a hot topic. Nowadays, more and more investors are focusing on how to produce more effective pellet fertilizer. Meanwhile, pan pellet machines and double roller granulators are the key machines as molding equipment, so they are attracting more attention. There are a lot of fertilizer granulators in the market. Besides pan granulating machine and double roller compactor, rotary drum granulators and the new type organic fertilizer granulators are all hot-sale products. Next, Shunxin Heavy Industry will make a distinction between pan granulating equipment and fertilizer roller compactor.
Different working method
Pan granulators is the kind of granulator that makes use of pan rotating to process raw materials into pellet fertilizer. Simply speaking, this technology utilizes centrifugal force to make the raw materials conglobated, just like how you make sweet dumplings. However,the working principle of double roller compactor is extrusion forming, just like how you make alphabet cookies. Pan granulators and double roller granulating machine can both pelletize raw materials evenly. However, relatively the pellet fertilizer of fertilizer roller compactor is not super round.
Different design features
The biggest feature of pan granulators is that they are of great design. The 3 discharge ports of the pan is designed reasonably; the granulation rate of them is above 93%; they can work steadily; pan granulators have a long service life. The biggest feature of double roller granulating machine is fully automatic. That means you do not need to spend much labor for double roller compactor. Of course, you still need a screw type conveyor to realize the fully automatic working process.
For your reference, Shunxin pan granulation machine can produce both organic and compound pellet fertilizer while double roller granulating facility only can be used in compound fertilizer production lines.
Shunxin Heavy Industry Technology co. ltd., can provide you pan granulating equipment, rotary drum granulator machines, double roller compacting machine and so on. If you have interest in our pan granulating facility, please contact us!