Double roller granulator is a widely used compacting machine. This fertilizer compactor roller can pelletize powder materials into pellet. It is mainly used to press some powder materials that are difficult to be shaped. For example, roller granulator machines can pelletize pulverized coal, dry powder and fertilizer powder. For your reference, Shunxin fertilizer roller compactor granulator is often used in compound fertilizer production lines. What's more, Shunxin double roller granulator employ the dry granulating method. Shunxin double roller granulator are ideal granulators because they are high-efficiency and economical. In general, electric roller granulators can produce pellet ranging from 3mm to 10mm. Besides, we can also customize special rollers for you according to your requirements.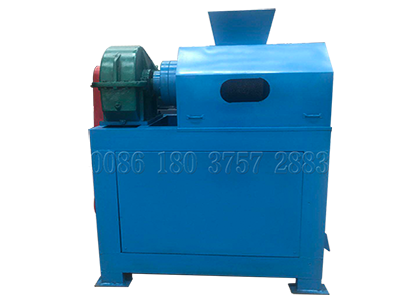 Double Roller Granulator
Model: SXJZ-1T
Power: 11-15kw
Granule Diameter: 3-10mm
Roller Sheet Size: 150*220mm
Dimension: 1450*800*1450mm
Color: red(can be customized)
What common materials you can use for double roller granulators?
Double roller granulator is a common-used machine used in compound fertilizer production line. You can use our fertilizer roller compactor to process lots of chemical materials.
The materials include aluminium skimmings, activated carbon powder, aluminium axide powder, zinc, charcoal dust, clay, pulverized coal, cryolite powder, plastic, flour limestone, pigment powder and compound fertilizer powder including urea, ammonium sulfate, phosphoric acid, potassium chloride muriate, calcium magnesium phosphate and so on.
Besides, Shunxin fertilizer compactor roller can also be used to make bentonite granules and snow-melting agent.
Now, you have learnt some rough knowledge about the double roller granulators and its raw materials. In the following, Shunxin will introduce you the working principle of our fertilizer roller compactor.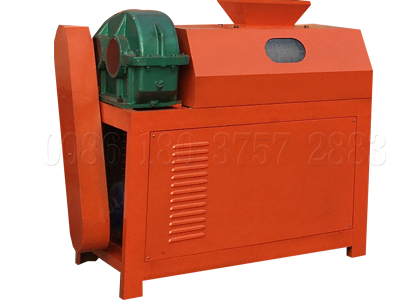 Key points of double roller granulators' working flow
You can make use of the roller granulator machine more efficiently if you know the key parts of its working flow. Here are five key points for you to refer:
The first thing is about feeding device which can control the feeding speed. Feeding at a steady speed is helpful to improve the efficiency of your double roller granulator. Importantly, in order to make sure the perforated roller granulator will be supplied with raw material continuously, Shunxin Heavy Industry recommends you select screw conveyors or oscillating conveyors to feed the fertilizer compactor roller;
Driven by dual bearings, Shunxin fertilizer roller compacting machines can pelletize raw materials quickly and efficiently. Compared with the roller granulator that just has one bearing, double roller granulators are less vulnerable;
The electromotor of the granulator drives the roller to rotate;
The powder material is fed into the granulator, then it will be extruded. Through extruding, electric roller granulators will remove air out of the raw materials in order to make the finished pellet hard;
After the raw material gets granulated into hard pellets, the pellets will demould from the roller automatically and be conveyed to next procedure.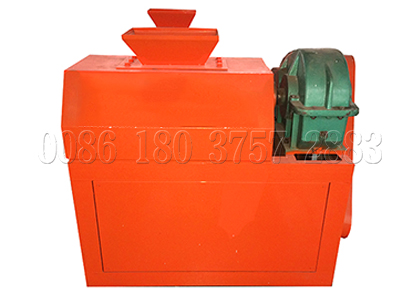 Roller Press Fertilizer Granules Making Machine
Model: SXJZ-1T
Power: 22-30kw
Granule Diameter: 3-10mm
Roller Sheet Size: 185*300mm
Dimension: 1630*850*1650(mm)
Color: red(can be customized)
Seven remarkable features of Shunxin double roller granulator
Shunxin roller press granulators are hot-sale products in the market because they have a lot of stunning features. The following are seven remarkable features of them.
Shunxin roller type granulators are energy-saving machines. At normal temperature, the roller granulators can make pellet. Compared with some other granulating methods, there is no need of fuel oil and gas to dry the finished pellet;
Fertilizer compactor roller adopts dry granulation method, you do not need to add extra adhesive. This roller machine makes use of the intermolecular forces to produce hard pellet;
Double roller dry granulator requires that the moisture content of the raw material be among 5%~10%, so you can get quite dry pellet through it. Therefore, you do not need to spend money on drying machines and cooling machines. In a word, Shunxin electric roller granulator is a kind of economical machine;
Shunxin multifunctional double roller granulator can pelletize a lot of powder materials. By now, it has pelletized more than 30 materials successfully;
By using a double roller granulator, it is possible for you to change your granulating formula at a short time. Our fertilizer roller compacting machine can produce over 30 kinds of compound fertilizer pellet products;
The granulation rate of the roller compactor granulator is above 90%;
Roller type granulators just consume electricity, so they won't produce pollution.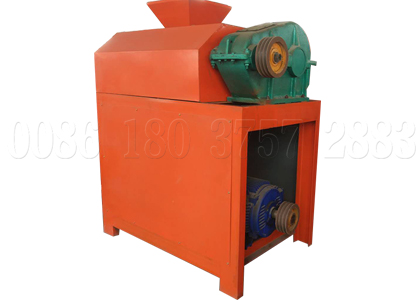 Roller type extrusion fertilizer granulating machine
Model: SXJZ-1T
Power: 37-45kw
Granule Diameter: 3-10mm
Roller Sheet Size: 300*300mm
Dimension: 1850*1100*2050(mm)
Color: red(can be customized)
How to operate a double roller press granulator correctly?
Using a fertilizer compactor roller correctly can improve the production efficiency. In addition, if you use it in the right way, you can prolong its service life, too. So, operate you roller compactor as the following steps!
You should make sure that there is not any gravel and junk iron in the powder material;
If your roller compaction granulator has worked for 80 hours, you need to disassemble it for checking. At this time, you should add some heat resisting oil on the bearings. In this way, you can make use of your roller compactor for long;
If no material is being added into the feeding port, you should halt the roller press granulator immediately. Notice: You mustn't operate the double roller granulator when it is at zero workload;
If there are unqualified pellet appearing and the granulation becomes low, you should check out if you have the proper formula;
During the granulating process, if there is no finished pellet coming out the roller compactor, you should halt the machine right away. Then, you need to take off diaphragm plate and inspect the inside carefully. After you settle the matter, you can restart the perforated roller granulator;
You should check the tightness of the belts frequently;
If the gearbox leaks oil, you must change the oil seal in time.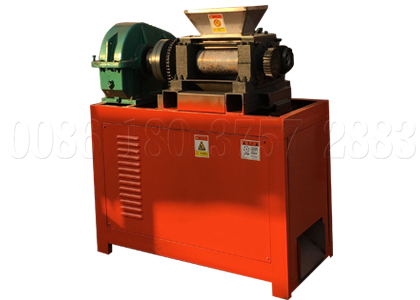 Extrusion Granulator Machine
Model: SXJZ-1T
Power: 11-15kw
Granule Diameter: 3-10mm
Roller Sheet Size: 150*220mm
Dimension: 1450*800*1450mm
Color: green(can be customized)
How does Shunxin double roller granulator employ dry granulation technology?
Fertilizer roller compactor is a special granulator. Different from other fertilizer pellet making machine, it uses dry granulation technology for making powder into granules. The wet granulation equipment requires high moisture content materials. And it is applicable for you to add binders or some liquid into materials during the granulation. While, this machine can accept the materials, whose moisture content is between 5%-10%. Meanwhile, there are two rotating rollers, which will extrude your dry powder materials into shaped granules.
This machine is often used for making complex fertilizer. It is applicable for you to use some powdery materials, which is not suitable for mixing with liquid for pelletizing. Especially, if you use this extrusion granulation equipment for granulating, you don not need to buy a dryer. Because the pellets made by this granulator have low moisture content. You can pack them directly for selling. While, if you want your fertilizer pellets have higher quality, it is helpful for you to equip with a screening machine and coating machine before packing.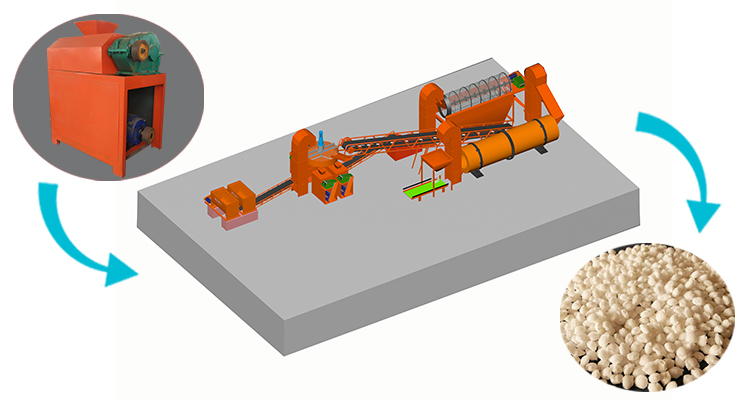 How to prolong the service life of a roller type granulator?
If your double roller dry granulator can service for long, you can save a lot of money. Here are some significant suggestions for you to follow.
1. When you use the roller press compactor for the first time, you should make sure there is no load in the feeding port;
2.You should be careful and make sure there won't be junk iron staff in the raw material, because iron staff could damage the rollers badly;
3.Before you start up the fertilizer roller compactor granulator, you ought to add some gear oil on the speed reducer. Tips: You should change the gear oil every four month;
4.With good lubrication, you can use the double roller compacting granulators for a longer time. Thus, it is important to lubricate all parts of the roller type granulator. The main parts needing oil are these as follows:
Rolling bearing;
Bearings of the roller;
All the gears;
Live bearing and the sliding surface.
Shunxin Heavy Industrial Machinery is one of the top double roller granulator manufacturers in China. With over 30 years experience in manufacturing fertilizer granulating equipment, Shunxin Heavy Industry can provide you superior roller compactors and service. Therefore, if you have interests in Shunxin roller type compactor granulator, please contact us now!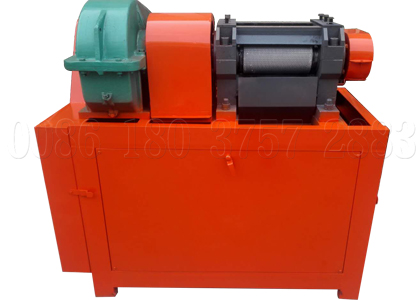 Extrusion Granulator Machine
Model: SXJZ-1T
Power: 11-15kw
Granule Diameter: 3-10mm
Roller Sheet Size: 150*220mm
Dimension: 1450*800*1450mm
Color: blue(can be customized)
How to get a double roller granulator in an economic way?
Fertilizer roller compactor is an advanced fertilizer granules making machine. As a professional fertilizer granulator manufacturer, we can provide you various specifications for your reference at factory price. For you small scale production capacity requirements, there are small size roller type granulation machine for you. And it can also reduce your cost. Meanwhile, the material we use for making machine is alternative for you. If you want to use higher quality materials than usual for manufacturing the double roller press machine, we can customize. Thereupon, the price will be higher.
Besides, according to your fertilizer production requirements, Shunxin has professional engineers for helping you choose the most suitable machine. We will try our best to make you satisfied. And you can get the best price for your own fertilizer making machines.
Shunxin fertilizer roller compactor machine granulating video
FAQ about our dry type double roller fertilizer extrusion granulator
Q: How can I know the granulation effects of this fertilizer roller compactor with my materials?
A: This machine is suitable for processing powdery materials, whose moisture content is between 5%-10%. As long as your materials are dry powder, this granulator will turn them into oval granules. Moreover, you can also send your materials to us, and we will tests them. And then you can know the granulation effects better. Besides, if you have interests, we are welcome you to visit our factory and tests our machine on site.
Q: How long should I change the vulnerable parts?
A: For this double roller granulation machine, the roller sheets are easy to be damaged. And you had better change the roller sheets at least half a year.
Q: What are the advantages of this double roller granulation machine?
A: If you powdery materials are not suitable for mixing with some other liquids, this machine can pelletize by extrusion force. And the moisture content of your powders can be below 5%. Besides, using this machine for granulating, you do not need to equip with the drying machine and cooler. It is applicable for you to pack the granulated products directly. Thereupon, it also saves your costs.