Manure making machine is a set of machine that can process animal wastes into manure pellet fertilizer. According to the types of the raw materials, we can provide cow dung making machines and chicken manure fertilizer pellets making lines for your. Especially, there are many different manure pellet making machines for different requirements. According to different designs of the granulators, they include disc, granulators, rotary drum manure fertilizer pellet mills and new type organic fertilizer granulators.
Manure pellet has a lot of advantages in agriculture, and it's market prospect is promising. For choosing proper organic manure making machines, Shunxin suggest you choose them according to your raw materials and capacity.
Manure making machine is widely used, so you can not only use them to process animal waste, but also to process some other organic wastes.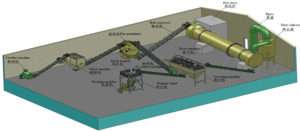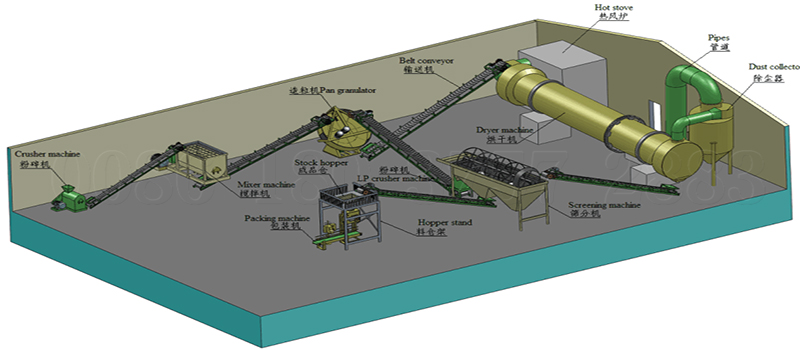 In the modern society, tons of organic wastes are generated every day. These organic wastes contain a lot of trace ...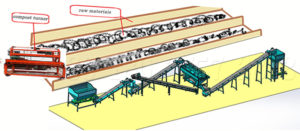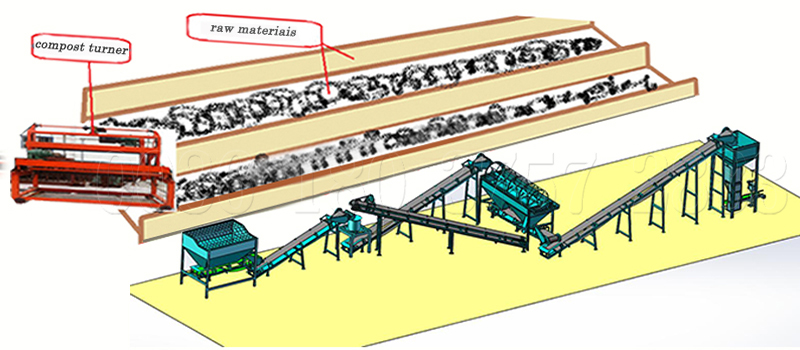 Chicken manure production line belongs to organic fertilizer production lines. Obviously, this organic fertilizer production line takes chicken waste as ...

Where can manure making machine be applied to?
If you have interest in the manure making machine, you must want to know the practical applications of the manure equipment. Manure making machines manufactured from Shunxin Fertilizer Machinery are specially designed for different kinds of farms. According to our customers' demands in these years, the following applications fields have emerging needs on these manure pellet fertilizer making machines:
Large scale farms
Large scale farms have surging demands on manure fertilizer processing machine. With less money invested in organic manure fertilizer granules production, you will profit more both from the animals and crops of your farm and pellet fertilizer. Especially, we have both large scale manure compost making machines and pelletizers with large production capacity for you to choose.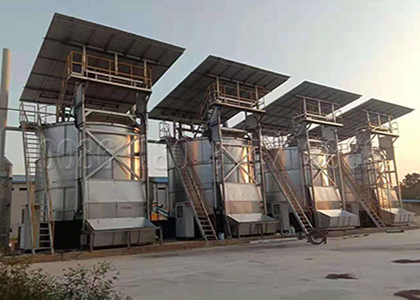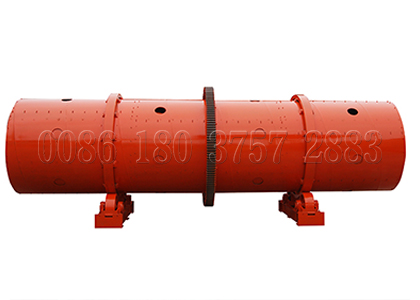 Cooperating with small scale farms to start your business
If you do not own a large scale farm, you can still start your organic fertilizer business in countryside. In countryside, there are quite a lot of small-size farms, and they do not have the ability to invest a manure pellet production line for themselves. So, here's your chance. If you establish a manure fertilizer factory in countryside, you can get the raw material(animal wastes) easily. In addition, you can also get stalks and bean dregs easily in the countryside.
In fact, apart from animal manure material, you can also use manure equipment to process other compost organic raw materials into pellet fertilizer. Next, Shunxin Heavy Industry will tell some other practical applications of organic manure making machine.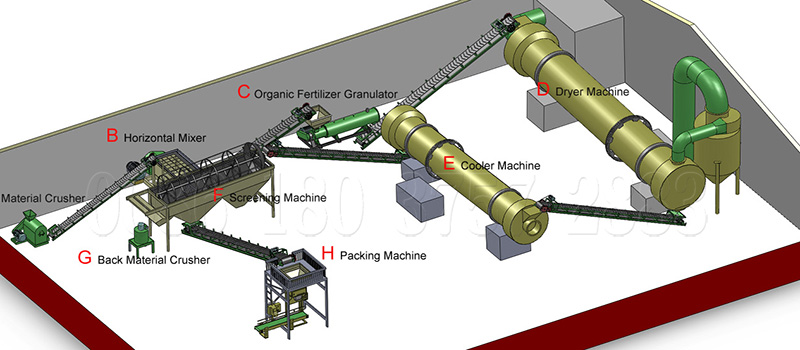 Sugar mills
Sugar mills can also use manure pellet making machines to turn waste into wealth. A quantity of bagasses in a sugar mill is a quality and abundant raw material for produce organic pellet fertilizer. With the help of organic pellet fertilizer making machines, sugar mills can dispose production wastes and gain more income. This is a thing that has double benefits, so you really should take this into consideration.Similarly, breweries and wineries are qualified to own organic pellet fertilizer granulators. Pellet granulators are helpful to change waste draff into pellet fertilizer. More draff, more money!
Shunxin Heavy Industry can provide you all kinds of manure making machines for your option. And all of these manure granulators will help you to produce high-quality manure pellet fertilizer.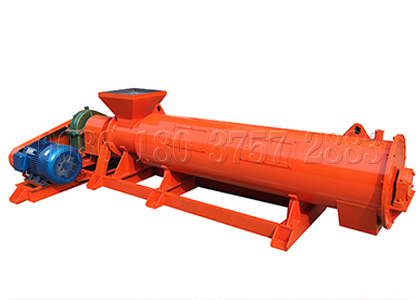 New Designed Organic Fertilizer Granulator
Model: SXJZ-600
Installation Angle: 2°-2.5°
Capacity: 1-1.5t/h
Total Power: 37kw
Dimension: 4100*1600*1150
Application: making organic pellet fertilizers
Many people have chosen Shunxin organic manure making machine
Want to invest an organic manure making machine? If so, you must be curious to know if it is worthwhile to invest in manure pellet fertilizer industry. The following are three benefits of pellet manure:
Firstly, there are manure powder making machine and pellet fertilizer production line in Shunxin for you to choose. Especially, the pelleted organic manure has advantages of good physical property. No fertilizer dust will flow in the air when you load or unload manure pellet fertilizer. Besides, even if you store the pellet fertilizer for long, there will be no agglomerate in it. Furthermore, pellet manure is more convenient than powder manure for planters to spray in the fields.
Secondly, compared with compound fertilizer, manure pellet fertilizer can improve the activity of the soil. Moreover, manure pellet has a long-term effect on the oil and you don't need to worry about the volatilization of manure pellet fertilizer.
Finally, Shunxin manure handling machine has wide applications. Compared with pure manure pellet fertilizer or compound fertilizer, organic-inorganic fertilizer has more nutrients. Therefore, you can make use of Shunxin manure machines to produce organic-inorganic pellet. Adding some nitrogen, phosphorus and potassium into the manure, more nutritious pellet fertilizer will be made through the manure machinery.
For making manure granules, granulators are the most significant machines, so how to pick matching manure granulator for your factory?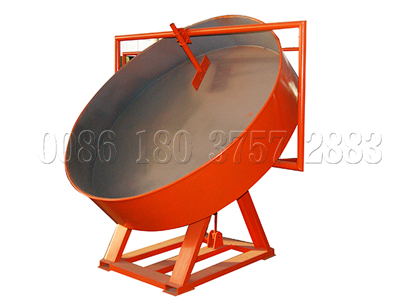 Disk Pan Fertilizer Pelletizer Machine
Model: SXYZ-1800
Edge Height: 300mm
Rotary Speed: 21(r/min)
Capacity: 0.8-1.2t/h
Total Power: 3kw
Dimension: 2060*1700*2130(mm)
Tips on selecting a proper manure making machine for your manure production plant
Manure pellet making machines play an important role in the manure pellet production line. Hence it is necessary to choose a granulator perfectly meeting your needs. Shunxin Heavy Industry can provide you manure granulator machines such as disc granulator, rotary drum granulator and new type organic fertilizer granulator. In addition, Shunxin company can also provide you a "beautifying machine", namely organic fertilizer polishing machine.
Another important point that you should know is you should choose manure granulators according to the raw materials.
Disc granulators take material-agglomerating method to pelletize raw materials. During the pelletizing process, you should add some water or binding agents to ensure that you could make quality manure pellet fertilizer. It's a good horse manure pellet making machine.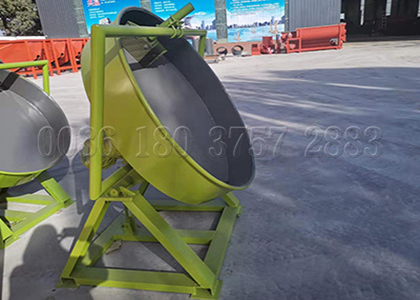 Disc Pellet Mill
Model: SXYZ-500
Edge Height: 200mm
Rotary Speed: 32(r/min)
Capacity: 0.02-0.05t/h
Total Power: 0.55kw
Dimension: 650*600*800mm
Just like disc granulators, Shunxin rotary drum granulators also take material-agglomerating method to make fertilizer pellets. Compared with disc pelletizers, rotary granulators are more suitable for large- scale fertilizer plants.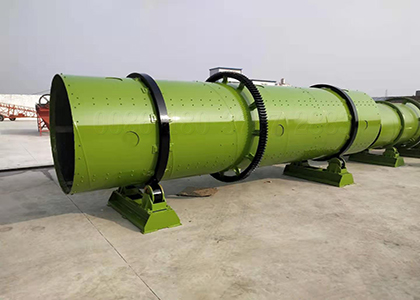 Manure Making Machine
Model: SXZGZ-3210
Power: 37kw
Diameter: 3200
Installation Angel: 2°-5°
Rotary Speed: 9.5(r/min)
Capacity: 15-30t/h
New type organic fertilizer granulator machines take the way of wet granulation to pelletize raw materials. It is a kind of specialized granulator for making organic pellet fertilizer. It requires that the moisture content of the raw material should be among 25%~30%.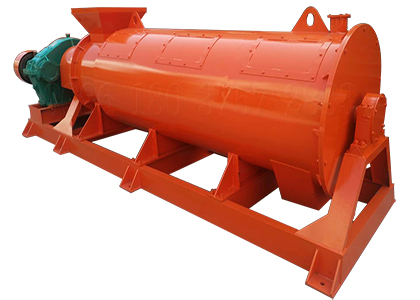 New Type Organic Fertilizer Granulator
Model: SXJZ-800
Installation Angle: 2°-2.5°
Capacity: 1.5-2.5t/h
Total Power: 55kw
Dimension: 4250*1850*1300
Application: making organic pellet fertilizers
Shunxin Heavy Industry can provide you double roller granulators, too. However, you'd better not use a double roller granulator to make manure pellet fertilizer. In general, the raw material for making organic pellet fertilizer is too wet, but the double roller granulator requires that the moisture content of the raw material should be less than 5%. Though you can not use a double roller granulator to produce manure pellet fertilizer, you can use it to make compound fertilizer pellet.
With promising market prospect, investing in manure pellet machines must be a high-yielding project.
Promising market analysis of manure pellet fertilizer
Manure pellet fertilizer is a kind of organic fertilizer that contains a lot of nutrients. Nowadays, people become more and more desirable for organic fruits and vegetables. It is obvious that the manure pellet fertilizer will be more and more marketable in the future.
According to the report of a leading think-tank Markets and Markets (M&M), up to 2022, the global organic fertilizer market is expected to reach around 11.2 billion dollars.
The main reason for promoting the development of the organic fertilizer is the increase of global organic sown areas. With the development of the society, people pay more attention on what they eat. There is a research shows that the demand of organic fertilizer increases at the soonest in the organic fruit and vegetable market. The more organic fruits and vegetables people demand, the more manure pellet fertilizer the markets need.
As a conclusion, manure pellet fertilizer industry is worthy of funding. Shunxin Heavy Industry can provide manure making machines for you. If you want more information, please contact us, and our sales manages will give you best advice and assistance!