Fertilizer dryers are used to reduce moisture content of all kinds of powder and pellet materials. You can use a Shunxin drum fertilizer dryer in many industries. For your reference, you can use a large capacity fertilizer dryer to dry clay, coal, mineral waste residue, iron powder, and so on. What's more, rotating drum dryers play an important role in organic and compound fertilizer production line to dry powder or pellet fertilizer.
In powder fertilizer production lines, a rotary fertilizer dryer machine is installed after a crusher machine or a mixing machine. In pellet fertilizer production lines, you should place Shunxin drying equipment after the fertilizer granulator. The main part of Shunxin drying machine is a horizontal cylindrical drum. In the cylindrical drum, there are lots of fins that can scatter materials in the rotating drum. All parts of Shunxin rotating dryer machine are durable, so the fertilizer dryer is high-quality . In addition, the rotary drum drier is a kind of energy-saving industrial drying facility.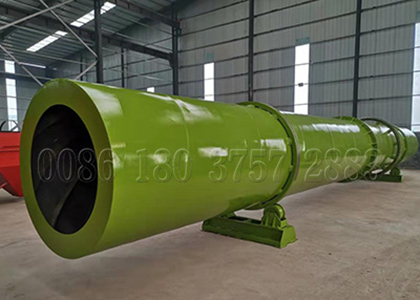 Fertilizer Dryer
Model: SXHG-0808
Power: 5.5kw
Capacity: 1-2t/h
Rotating Speed: 6(r/min)
Installation Angle: 3°-5°
Remarkable design of fertilizer dryers for sale
Shunxin experts design our rotating drier equipment reasonably and it has lots of stunning features. In the following content, Shunxin will show you some details about the design of our rotary drying machine.
The drying machine is designed in a good structure and laid out horizontally. To be specific, the large capacity dryer should slope a little. Under this circumtance, discharge part will blower than the feed part. This makes convenience for materials to move forward in the cylinder.
It is easy and convenient to install a Shunxin rotating drying machine.
Shunxin cylinder fertilizer dryers are highly automatic. You can learn how to operate it very quickly. What's more, our cylindrical driers can work steadily.
Equipped with a frequency control device, the rotating speed of Shunxin drum fertilizer dryers is adjustable. You can adjust its rotating speed according to the moisture content of the materials and capacity demand. Generally speaking, if you want your drum drying machine to dry material in large quantity, you should make the drying machine work at relatively fast speed.
There are nine different models of Shunxin rotary driers. The largest-yield rotating drying equipment of Shunxin Heavy Industry can dry 18 tons materials per hour.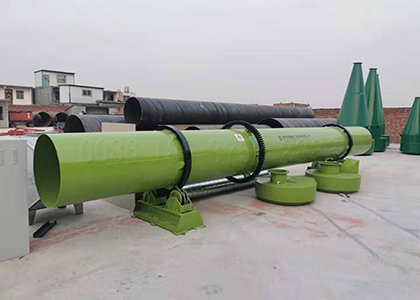 rotating drier equipment
Model: SXHG-1010
Power: 7.5kw
Capacity: 2-4t/h
Rotating Speed: 6(r/min)
Installation Angle: 3°-5°
Collocation facilities for a rotary drying machine
You can not dry your materials only with a cylinder dryer. Shunxin rotating fertilizer dryer need to work with some corollary equipment. These equipment include burner, hot-blast stove, induced draft fan, cyclone dust collector and dust setting chamber.
Burners are the heating devices. Shunxin has two types of burners: gas-burning burner and dual-purpose burner. Gas-burning burner just can burn gas while the dual-purpose can burn both gas and diesel oil.
Hot-blast stove is another heating facility. Unlike Shunxin burners, a hot-blast stove looks like a sealed cubic room. The inner wall of it is covered with fire-clay bricks and the out part is covered with manganese steel plates. Shunxin hot-blast stoves are movable and it is easy to install them. In addition, we can customize hot-blast stoves in different sizes for you.
Induced draft fan is installed at the discharge part of cylinder drum dryer. It can continuously exhaust hot air in the drum drying machine. This is an inevitable corollary machine for drying powder and pellet materials.
You can use a cyclone dust collector to collect fine dust in the drying process. Out of the purpose of protecting environment, you'd better equip this machine for your rotary drier. The collected dust will enter into a dust setting chamber.
Energy consumption of a Shunxin fertilizer dryer
The fuels for supplying heat for Shunxin drying equipment include coal, liquefying gas, natural gas, diesel oil, biomass pellet, etc.
Shunxin drum driers are energy-saving. They consume less fuel than other kind of industrial driers. The outer part of the cylinder drier equals to an insulating layer. That means the heat in the drum will not radiate out. In this way, the heat loss is less. Thus, Shunxin rotary drying facility is energy-saving.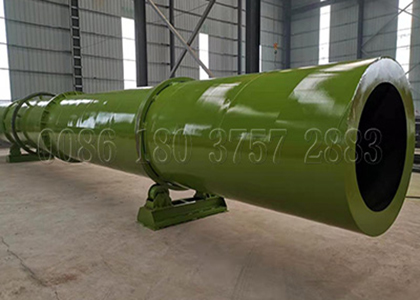 drying equipment
Model: SXHG-1515
Power: 11kw
Capacity: 4-6t/h
Rotating Speed: 6(r/min)
Installation Angle: 3°-5°
The component parts of a fertilizer dryer
A Shunxin rotating drum fertilizer dryer machine consists of many different parts. They are:
Cylindrical drum part
Front roller
Rear roller
Gear
Blocking roller
Carrier roller
Pinion
Discharge part
Speed reducer
Motor
Belt
Among these component parts of Shunxin rotating dryer machines, there are several vulnerable parts. The quick-wear parts include pinions and belts. Generally speaking, you need to change the pinions and belts of your drum dryer machine every half a year. If you maintain them in a proper way, you can use them for a longer time. For your information, you can also communicate with our sales to ask if they can provide you a set of quick-wear parts for free or in quite low prices.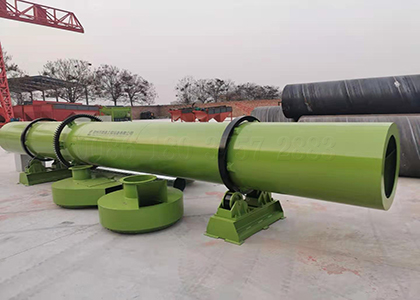 rotating drum fertilizer dryer machine
Model: SXHG-1818
Power: 22kw
Capacity: 7-12t/h
Rotating Speed: 5.8(r/min)
Installation Angle: 3°-5°
How is the material dried by Shunxin drying facilities?
There is no doubt that you should start the heating facilities at the first step. The materials to be dried will be put into the drying cylinder through a conveyor. Under the function of a induced draft fan, the hot air generated by the hot-blast stove or the burner will move quickly in the drying drum. In this process, the material will lose moisture rapidly. During the drying process, some fine dust will appear. You should use a cyclone dust collector to collect it in order to protect the environment. The collected dust will be centralized in the dust setting chamber. Finally, the dried materials will come out of the rotary drier from the discharge port. And the exhaust fan will exhaust air and water vapor out of the drum part.
Drum Dryer
Model: SXHG-2222
Power: 37kw
Capacity: 8-16t/h
Rotating Speed: 5.5(r/min)
Installation Angle: 3°-5°
Maintaining tips on Shunxin fertilizer dryers
It is very important to do a good maintaining work for all kinds of industrial machinery. Here, Shunxin will provide you some maintaining advice as follows.
You should often check if there is enough lubricating oil on the connection points of the roller rings, carrier rollers and all the bearings.
You should make sure that there is no excessive wear between the rolling ring and carrier roller.
Every day, you are supposed to inspect the fastening bolts and anchor bolts of the cylinder dryer.If there are any loose or broken, you ought to adjust them or change them with new bolts immediately.
The supporting foundation of a rotary dryer should be firm and stable. If it is swaying, chapped or sinking, you should halt the drying machine right away. You are not allowed to start it until the problem gets solved.
It is abnormal that the temperature of bearings raises. There are lots of possibilities that will lead to this problem. One reason of them is you've added too much lubricating oil the the bearings. You should inspect the dryer machine carefully. If you don't know how to fix it, you can consult Shunxin engineers.
you should observe if the cylinder part of your fertilizer dryer can rotate flexibly and stably. If not, you should find out the problem and figure it out.
Shunxin is a professional industrial machinery manufacturer in China. We are capable to supply high-quality fertilizer dryers to you. Apart from rotary drying machines, we also manufacture fertilizer granulating machines, compost turners, fermentation pots, fertilizer mixing machines, automatic packing machines,etc. Want to know more information, you can contact us right now!