Fertilizer granulator machine can make powder materials into pellet fertilizers. In general, fertilizer granulators are divided into organic fertilizer granulators and inorganic(compound) fertilizer pellet making machines. Organic fertilizer granulator machines include
pan granulators
, rotary drum granulators and new type organic fertilizer granulators. Compound fertilizer granulator machines include disc granulators, rotary drum granulators and double roller granulators. As you may have discovered, disc granulators and
rotary granulator
can both produce organic pellet fertilizer and compound pellet fertilizer. All the fertilizer granulators that we've mentioned can pelletize raw materials efficiently, and the granulation rate of them is all above 90%.
What Materials Do You Need for Manufacturing Fertilizer with Shunxin Granulators?
Manufacturing compound fertilizer and organic fertilizers, you need different raw materials. And the granulation machine they use are different, too.
If you want to make organic pellet fertilizer, you can use cow dung chicken manure, pig manure, horse manure, stalk, biogases residue, draff, municipal sludge(MSW), etc as your raw materials. Usually, our customers choose pan granulator, patent organic fertilizer pellet making machine.
If you want to make compound pellet fertilizer, the raw materials include diammonium hydrogen phosphate(DAP), urea, potassium sulphate, potassium chloride, ammonium bicarbonate, nitramine, ammonium chloride, ammonium sulfate, calcium superphosphate, calcium magnesium phosphate and nitrate of potash. Because of the speciality of compound fertilizers powders, Shunxin provides you dry type roller press granulation machine for you. Besides, the drum pelletizer is also suitable for large scale compound fertilizer granules manufacturing business.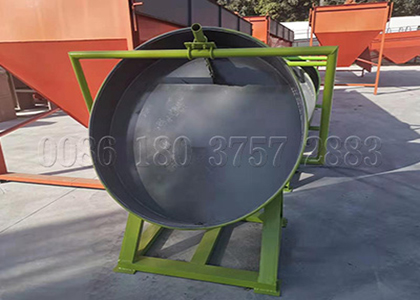 Fertilizer Pan Granulator Machine
Model: SXYZ-600
Edge Height: 280mm
Rotary Speed: 33.5(r/min)
Capacity: 0.05-0.1t/h
Total Power: 0.75kw
Dimension: 800*700*950mm
Materials preparations before granulating
Whether you want to make organic or compound fertilizers, it is not suitable for you to granulate them directly. While, making different types of fertilizers, the machines you should use for preparing are different, too. For example, if you want to make organic fertilizer, there are some machines you should equip with.
Compost fertilizer manufacturing machines for making organic fertilizer
Making organic fertilizer, composting is a key process. For making your compost finish rapidly, Shunxin manufactures many types of compost fertilizer making machines with different composting methods. For example, there are crawler type organic compost fertilizer turner machine and small scale turner for your windrow composting requirements. What's more, if you want to use trench composting method, we also have groove type turner, large scale wheel type compost turning machine and chain plate type compost machinery for your bio compost making. Especially, there are fermentation tanks for sale for you to realize static fermentation.
For your information, if the moisture content of fresh organic materials are high, it is necessary for you to equip with a dewatering machine for lowering their moisture content. Besides, after the composting, if there are some agglomerations, you can use a pulverizing machine for making them into fine powder. And it is also applicable for you to add some elements into composted materials by using a batching machine and mix them evenly.
What should you do for preparing materials for manufacturing compound fertilizers?
The preparation for compound fertilizer granules making is a little different from organic fertilizer. The raw materials for making compound fertilizer pellets should be powders. And what you need to do is crushing the different types of straight fertilizers into powders and then batching them according to the requirements. For better granulating effects, you can equip with a powder blending machine for mixing them evenly.
Want to know more information about preparations before granulating?
Different fertilizer granulating methods
Different fertilizer granulator machines employ different ganulating methods. In general, there are two granulating methods: dry granulation and wet granulation.
Dry granulation
Dry granulation is also called "non-slurry pelletizing". It requires that the moisture content of raw material should be among 5%~10% and 5% is the best. Among all the fertilizer granulator machines of Shunxin Heavy Industry, only double roller granulator adopts dry granulating technology. Generally speaking, you can use a double roller granulator to make compound pellet fertilizer. Apart from compound fertilizer, you can make use of double roller granulators to produce some other pellet as long as their moisture content is between 5%~10%. The granulation rate of double roller granulators is above 93%, so double roller granulators are high-efficiency and ideal fertilizer granulator machines for your dry powder granulation. Please keep this in your mind: fertilizer roller granulator can not be used to produce organic pellet fertilizer because organic raw materials are always too wet.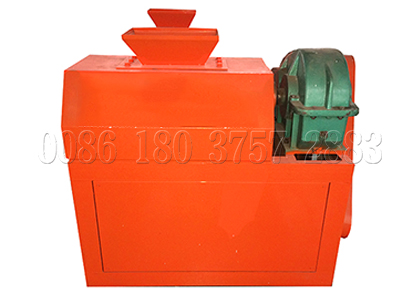 Fertilizer Double Roller Granulator Machine
Model: SXJZ-1T
Power: 37-45kw
Granule Diameter: 3-10(mm)
Roller Sheet Size: 300*300(mm)
Dimension: 1850*1100*2050(mm)
Color: red(can be customized)
Wet granulation
Wet granulation is a common granulation method in fertilizer industry. To be honest, except double roller granulators, all the other fertilizer granulators of Shunxin Heavy Industry employs wet granulating method. For your information, Shunxin wet fertilizer granulator machines include disc granulators, rotary drum granulators and new type organic fertilizer granulator. These granulators demand that the moisture content of the raw material should be among 25%~30%. If the fermented raw material is too dry, you could add some water or nutrient liquid in it. If the raw material is too wet, you could use a dewatering machine to reduce the moisture content of it.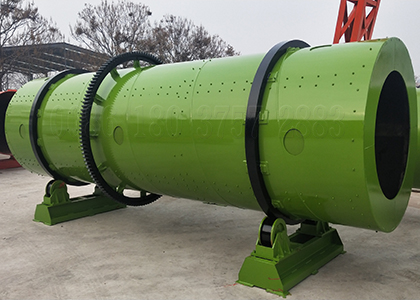 Fertilizer rotary granulator machine
Model: SXZGZ-1560
Power: 11kw
Diameter: 1500(mm)
Installation Angel: 2°-5°
Rotary Speed: 17.5(r/min)
Capacity: 3-5t/h
High-quality fertilizer granulator machines online sale
Shunxin Heavy Industry has our own factory, and welcome to visiting our factory which is located in Zhengzhou, Henan province. Shunxin hopes that we can attract investors all over the world to know our fertilizer granulator machines through the way of online sale. Our aim is to help you to start your fertilizer business successfully with Shunxin fertilizer granulator machines. The online-sale fertilizer granulators of Shunxin Heavy Industry include:
Apart from these fertilizer granulator machines, Shunxin also has a fertilizer polishing machine. Actually, the last one is not a granulator but a "beautifying machine". It can make the pellet fertilizer harder and more roundish.
For more details about our fertilizer granulator machines and polishing machines, contact us!
Rotary drum granulating machines also employ wet granulation method. Generally speaking, if you want a high-output fertilizer granulation equipment, we suggest you to have a rotary drum, For your reference, the raw material' moisture content should range from 25-30%.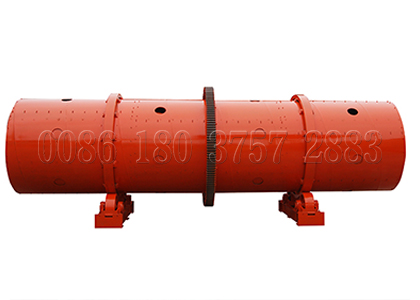 Rotary Fertilizer Granulation Equipment
Model: SXZGZ-1870
Power: 15kw
Diameter: 1800mm
Installation Angel: 2°-5°
Rotary Speed: 11.5(r/min)
Capacity: 5-8t/h
Shunxin double roller granulators are different from the two above-mentioned fertilizer roller compactor machines. They employ dry granulation method for producing fertilizer pellets. Most importantly, you can only use them to make compound pellet fertilizers. Here is the reason: compactor granulators can granulate dry materials whose water content is among 5-10%. However, the composted materials can not reach this standard. Therefore, they are only suitable for compound fertilizer production.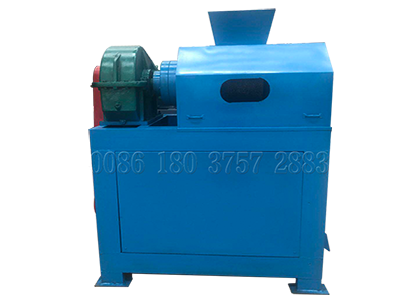 Dry Type Double Roller Granulator
Model: SXJZ-1T
Power: 11-15kw
Granule Diameter: 3-10mm
Roller Sheet Size: 150*220mm
Dimension: 1450*800*1450mm
Color: red(can be customized)
New type organic fertilizer granulator is the patented product of Shunxin. It's patent number is ZL201520285086.9. As the name shows, it is a high-efficiency machine for making organic pellet fertilizer.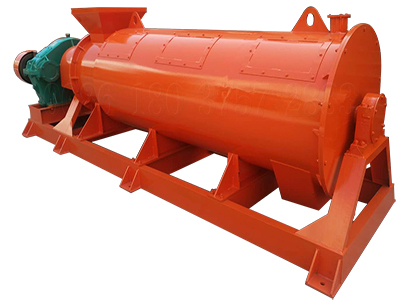 New Type Organic Fertilizer Granulating Facility
Model: SXJZ-1200
Installation Angle: 2°-2.5°
Capacity: 4-6t/h
Total Power: 90kw
Dimension: 4900*2550*1800mm
Application: making organic pellet fertilizers
Using your fertilizer granulator machine for a longer time, five tips you should follow
It is a common sense that good maintenance will make your fertilizer granulators be used for a longer time. Therefore, what should you do to maintain your fertilizer granulator machines? If you have no idea about how to prolong the service life of your granulators, here are some advice for you.
Do not start and halt the fertilizer granulator machines frequently. If you do it frequently, your fertilizer equipment will break down easily;
Do not use the fertilizer granulator machine when it is abnormal. If there is any malfunction of the granulator, you should halt the fertilizer granulator machine quickly. After being checked and repaired, you are allowed to start it;
You should inspect the fertilizer pelletizer and record it daily. Everyday, before you are off duty, you are supposed to lubricate the important parts including quick-wear parts, motor, speed reducer and bearings;
You should change or repair the damaged parts in time so as not to influence the normal production;
If it is slack season and you want to stop producing pellet fertilizer for some time, you should clean up the fertilizer granulator machine inside and out. The residues in the fertilizer making granulator will corrode the granulating machine badly.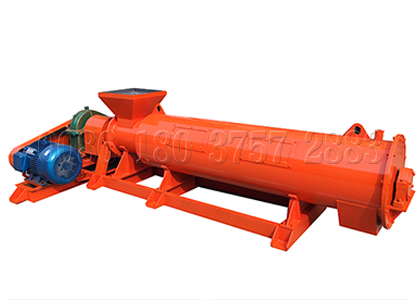 New Type Organic Fertilizer Granules Making Machine
Model: SXJZ-1500
Installation Angle: 2°-2.5°
Capacity: 6-8(t/h)
Total Power: 110kw
Dimension: 5500*2800*2000(mm)
Application: making organic pellet fertilizers
Pelleted fertilizer processing machine for better effects
After the granulating, you can get fertilizer granules you want. However, for better transporting, storing, appearance and fertility, you can process them by some equipment. With the help of these machines, your fertilizer pellets will be in a better status for you to selling or fertilizing.
Drying machines for lowering moisture content
Generally, if you use a wet granulation equipment for making ferilizer pellets, the moisture content of pelleted fertilizers will be high. At this time, you had better use a drying machine for lowering their moisture content. Shunxin rotating dryer has high drying efficiency for making your pellets into suitable moisture content, which is suitable for you to store.
Cooling machines for lowering temperature
Because drying needs high temperature, the dried fertilizer will have high temperature, too. It is time for you to use a cooler for lowering their temperature. This rotating drum cooling facility is same with drying machine in appearance. The difference is that drying machine takes advantages of hot air for supplying air for drying, while the cooler utilizes cool wind for cooling. This machine can not only lowering temperature, but also take the droplet on the surface of pellets.
After the drying and cooling, the pelleted fertilizer is suitable for packing. If you want to improve the products quality, enter the next step.
Screening machines for separating qualified and unqualified fertilizer granular
A screening machine is mainly used for selecting qualified fertilizer granular for entering next step. Meanwhile, it is applicable for you to re-granulate the unqualified fertilizer pellets or re-crush them.
Coating machines for better appearance
This coating machine has two functions. It can not only beautify the pelleted fertilizers, but also make sure the fertilizers will be not caking. Besides, you can also use some bacteria as coated agent for making fertilizer more fertile.
Packing machines for selling and transporting conveniently
Packing is the final step in a complete fertilizer production line. Shunxin has various fertilizer bagging machines for your reference. According to your different requirements on production capacity, we have no-bucket packaging machine, single bucket bag filling equipment, double bucket compost bagging machine for you to choose. Meanwhile, there are also granules and powders packing machine for your requirements. They all have high accuracy and working efficiency.
How to start a fertilizer plant?
For many potential investors, you might just have interest in fertilizer industry because you think that the future of fertilizer industry is promising. However, by now, you have no specific idea about how to establish a fertilizer plant. Here, Shunxin fertilizer granulator supplier will show you some information that you really need to pay attention to.
You should make analysis of fertilizer market at the beginning. 1. Do a research about your local fertilizer market. 2. Find out which kinds of fertilizers are popular.
If you have gained some knowledge about the market demand, you should determine how big a fertilizer plant you want to set up according to your budget.
Next, you should determine the material source. And then you could choose your factory site according to the material source.
The following step is to purchase quality fertilizer granulators. When you are considering to buy a fertilizer granulator machine, Shunxina suggest you buy it from leading fertilizer machine manufacturers.
Before you put your fertilizer granulator machine into production, you must seek a good sale for your fertilizer product.
Apart from the fertilizer granulator machines we've introduced, you also need some auxiliary equipment for your fertilizer plant. Shunxin can provide you a complete set of fertilizer production lines.
Have interests on our fertilizer production lines? Just send inquiry to us for more details of operating a fertilizer plants.
6 prospective fertilizer production line manufactured by Shunxin
Nowadays, there are 3 types fertilizers in the market. Here, Shunxin can provide you all these three fertilizer production lines for sale. Whether you want to make organic fertilizer, compound fertilizer or bulk blending fertilizer, it is available for you to get these fertilizer making machines in Shunxin.
Bulk blending fertilizer production line
Making bulk blending fertilizer, it only takes you 3 steps for finish the whole fertilizer production process. The bulk blending fertilizers granules manufacturing process only needs batching machine, BB fertilizer blending equipment and then you can pack. Meanwhile, Shunxin can also provide you professional suggestions according to your budget, plant scale and some other production requirements.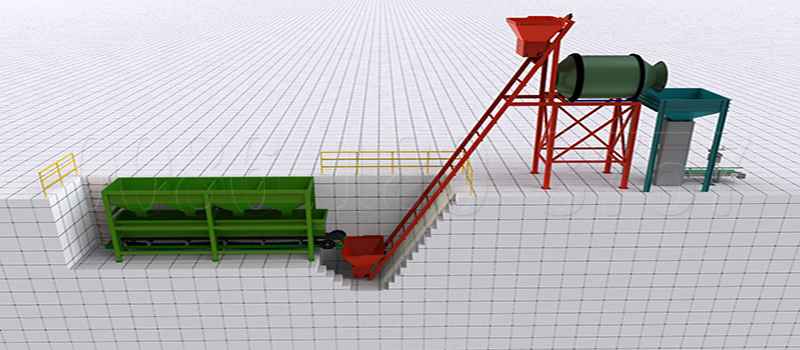 3 types of organic fertilizer making line for recycling waste
Organic fertilizer is an economic fertilizer. Meanwhile, it is also a good idea for you to make organic fertilizer. Its raw material can be chicken poo, cow dung, poultry waste, and so on. Besides, as long as you have organic waste, it is available for you to use Shunxin machines for recycling them into organic fertilizers.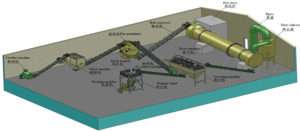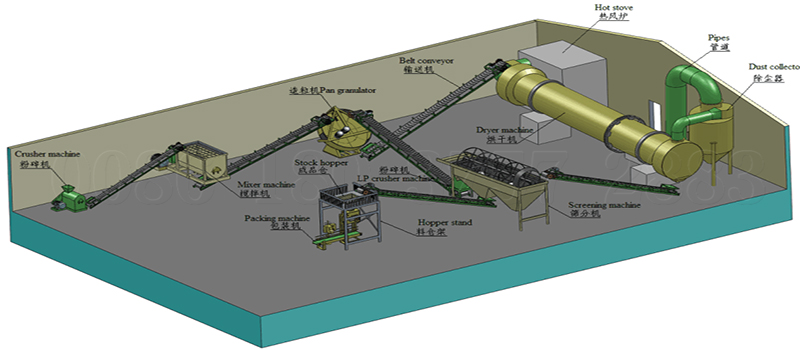 In the modern society, tons of organic wastes are generated every day. These organic wastes contain a lot of trace ...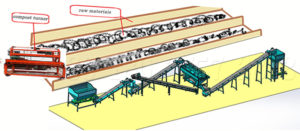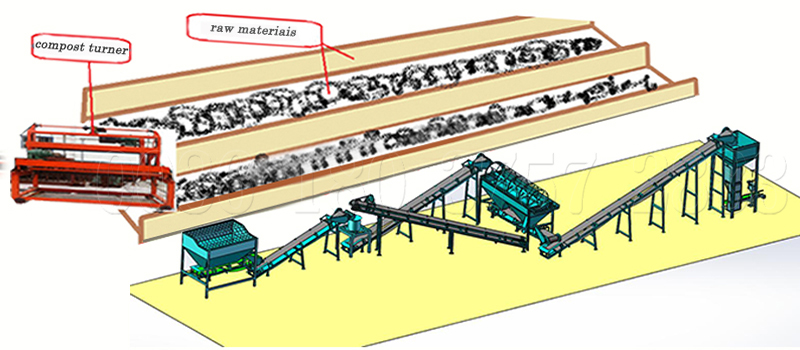 Chicken manure production line belongs to organic fertilizer production lines. Obviously, this organic fertilizer production line takes chicken waste as ...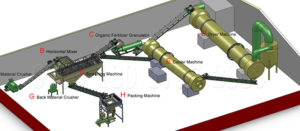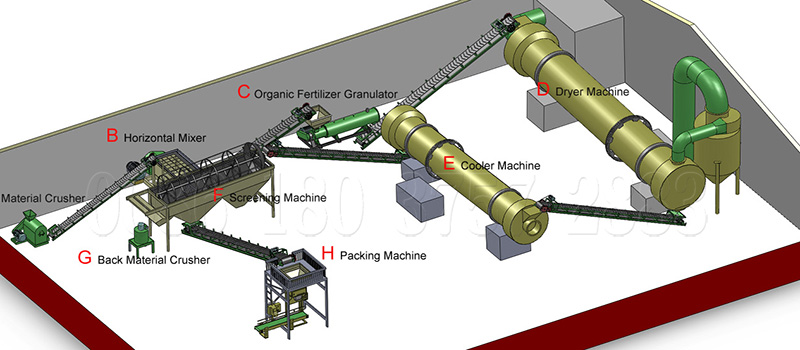 Manure making machine is a set of machine that can process animal wastes into manure pellet fertilizer. According to the ...

Manure fertilizer production line
Manufacturing organic fertilizer, animal waste is a main material. Shunxin has whole set of fertilizer machines for you to recycle your animal waste. Meanwhile, for your different requirements on production and machines, it is alternative for you to choose different equipment configurations.
Chicken waste organic fertilizer manufacturing
Chicken poo is good material for making organic waste. It is rich in organic matters and nutrients. If you have a chicken farm, it is suitable for you to form an organic chicken waste fertilizer making line. And then you can manage your chicken waste well.
Organic waste to fertilizer making process
Making organic waste into organic fertilizer is a good choice for you to recycle. It can not only get rid of pollution, but also make waste available. Equipping with Shunxin organic waste fertilizer manufacturing machines, you will get more economic efficiency.
If your raw materials are cow dung, poultry waste or some animal waste, Shunxin can also help you make them into fertilizers. Just contact us!
3 types of compound fertilizer manufacturing machines
Compound fertilizer can provide lots of nutrients for crops. It has many kinds of fertilizers. Such as, urea fertilizer, NPK compound fertilizer, DAP fertilizer, phosphate fertilizer, etc. Shunxin has complete machines for you to make compound fertilizer granules conveniently. Besides, we can also provide you bentonite granules making machines with different granulation technologies.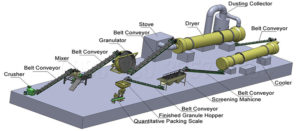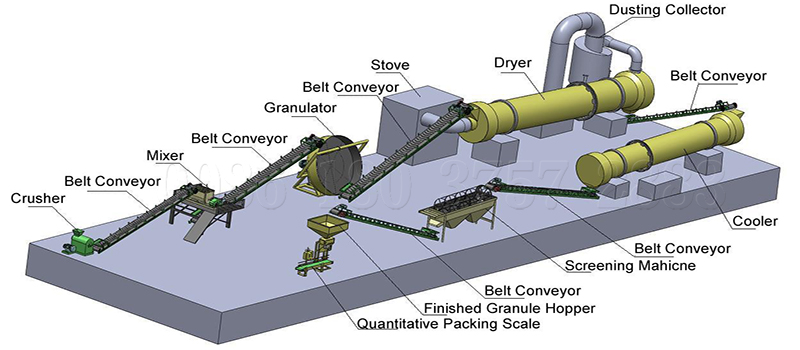 Running a compound fertilizer company, it will be a good choice for you to turn your compound fertilizer powder into ...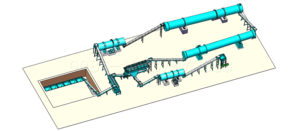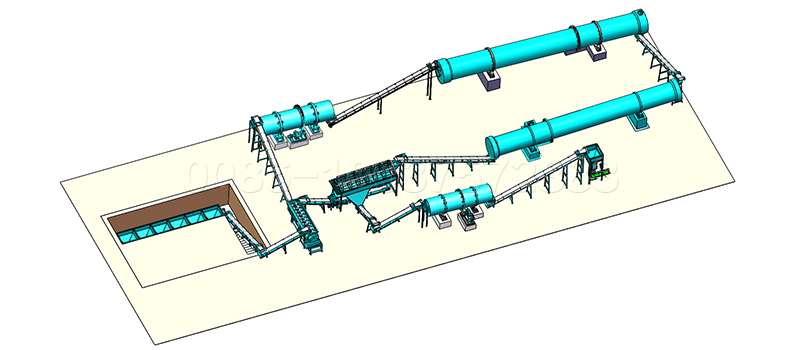 NPK fertilizer is the chemical fertilizer. In NPK fertilizer, the content of nitrogen phosphorus and kalium elements is high. Compared ...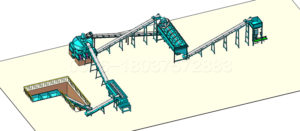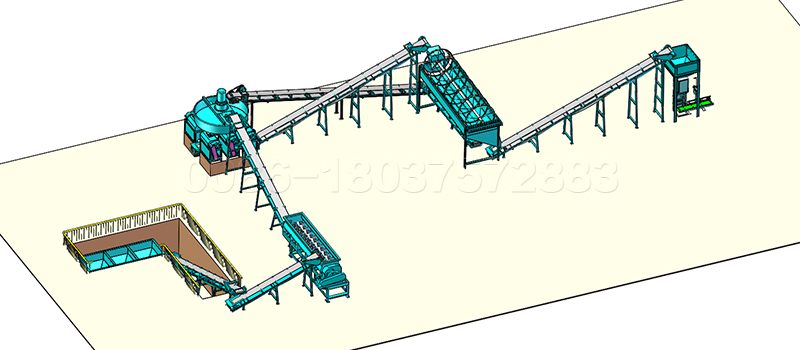 Bentonite is a kind of montmorillonite clay which contains a little glimmerton, kaolinite, halloysite, chlorite, zeolite quartz, feldspar and calcite ...

Urea fertilizer manufacturing
Urea fertilizer is a widely used fertilizer. And if you want to operate a urea fertilizer manufacturing plant, Shunxin equipment can provide you whole set of urea fertilizer manufacturing equipment at favorable price. Meanwhile, if you have any requirements on our equipment and designs, we will try our best to meet your needs and even customize a fertilizer production line for you.
For your urea fertilizer manufacturing plant, Shunxin can provide you high-quality fertilizer machines at factory price.
NPK fertilizer production line
For your NPK fertilizer manufacturing requirements, Shunxin has NPK fertilizer dedicated making line for your reference. There are complete fertilizer process for your both blending fertilizer production and granulating fertilizer production requirements.
Bentonite granules making machines
Making bentonite granules, there are wet granulation method and dry granulators for you to choose. Whether you want to make pellets by dry or wet granulation technology, Shunxin can provide you complete bentonite granules making process and machines.
Why choose Henan Shunxin Heavy Industry as fertilizer granule machine supplier?
Shunxin Heavy Industrial Machinery is a reliable fertilizer granulator supplier. We have our own factory. It is alternative for you to choose a suitable fertilizer granulator or fertilizer production line. Meanwhile, there are also various auxiliary equipment for you to equip with. What's more, we can not only provide you high-quality fertilizer making machines, but also provide you reasonable advice to start a fertilizer plant. Especially, it is available for you to get a customized fertilizer equipment.
Besides, if you choose Shunxin, it means that you choose both professional fertilizer granulation machine and favorable price. Shunxin has professional fertilizer equipment manufacturing team. And we can provide you high quality machines at best price. All the machine we sell are made by ourselves. If you have interests, it is available for you to visit our factory.